MULTILATERAL AGREEMENTS
by Laura Cuartas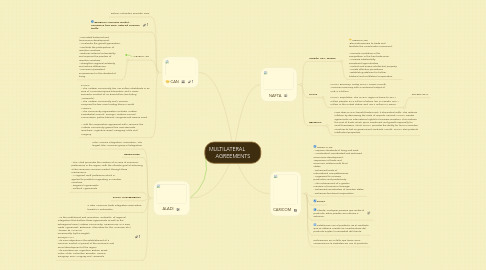 1. CARICOM
1.1. OBJECTIVES: - Improve standards of living and work. - Accelerated, coordinated and sustained economica development. -Expansion of trade and economic relations with third states. - Enhanced levels of international competitiveness. - Organized to increase production and productivity. - The achievement of a greater measure of economic leverage. - Enhanced coordination of member states. - Enhances fucntional cooperation.
1.2. FACTS
1.3. Cliente: Cualquier persona que recibe el producto, estos pueden ser internos o externos.
1.4. Satisfacción con el producto: Es el resultado que se obtiene cuando las características del producto suplen la necesidad del cliente.
1.5. Deficiencias: Es un fallo que tiene como consecuencia la insatisfacción con el producto.
2. NAFTA
2.1. Canada, USA, Mexico
2.1.1. OBJECTIVES: -Eliminate Barriers to trade and facilitate the cross border movement. - Promote conditions of far competition in the free trade zone. - Increase substantially investment opportunities - Protect and ensure intellectual property. - Create effective procedures - Establish guidelines for further trilateral and multilateral cooperation.
2.2. FACTS
2.2.1. NAFTA Economy: Today NAFTA covers a North American economy with a combined output of US$17.0 trillion. NAFTA Population: The NAFTA region is home to 444.1 million people, 33.3 million of whom live in Canada, 304.1 million in the United States, and 106.7 million in Mexico.
2.2.1.1. SECRETARIAT
2.3. BENEFITS
2.3.1. How does NAFTA benefit trade? First, it eliminates tariffs. This reduces inflation by decreasing the costs of imports. Second, NAFTA creates agreements on international rights for business investors. This reduces the cost of trade, which spurs investment and growth especially for small businesses. Third, NAFTA provides the ability for firms in member countries to bid on government contracts. Fourth, NAFTA also protects intellectual properties.
3. CAN
3.1. Bolivia, Colombia, Ecuador, Peru.
3.2. BENEFITS: Common market - Commerce free zone- external common tariffs.
3.3. OBJECTIVES
3.3.1. - Promoted balanced and harmonious development. - Accelerate the growth generation. - Facilitate the participation of member countries. - Reduces external vulnerability and improve the position of member countries. - Strengthen regional solidarity and reduce differences. - Procures a persistent imrpovement in the standard of living.
3.4. FACTS: - The Andean Community has 120 million inhabitants in an area of 4,700,000 square kilometers, and a Gross Domestic Product of US $900 billion (excluding Venezuela). - The Andean Community and Mercosur comprise the two main trading blocs in South America. - The Community organization includes Andean Presidential Council, Foreign Minister's Council Commission, justice tribunal, congress and reserve Fund. - With the cooperation agreement with Mercosur, the Andean Community gained five new associate members: Argentina, Brazil, Paraguay, Chile and Uruguay.
4. ALADI
4.1. Latin America Integration Association- The largest latin American group of integration.
4.2. OBJECTIVES:
4.3. - The Aladi promotes the creation of an area of economic preferences in the region, with the ultimate goal of achieving a latin american common market, through three mechanisms. - A regional Tariff preference which is applied to products originating in member countries. - Regional Agreements - Political Agreements
4.4. FACTS AND BENEFITS
4.5. a Latin American trade integration association, based in Montevideo
4.6. - As the institutional and normative "umbrella" of regional integration that shelters these agreements as well as the subregional ones (Andean Community, MERCOSUR, G-3 Free Trade Agreement, Bolivarian Alternative for the Americas, etc.) - known as ALADI or, occasionally, by the English acronym LAIA - Its main objective is the establishment of a common market, in pursuit of the economic and social development of the region - Its members are Argentina, Bolivia, Brazil, Cuba, Chile, Colombia, Ecuador, Mexico, Paraguay, Peru, Uruguay and Venezuela