CIVIL ENGINEERING AND GENERALITIES
by JEsteban BEstupiñan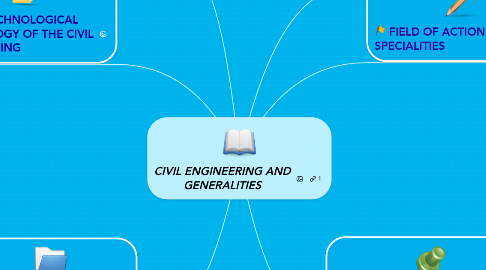 1. REFERENCES
1.1. COLCIENCIAS (1992). Convocatoria a la Creatividad Sistema Nacional de Ciencia y Tecnología 329pp. Diciembre de 1992 GONZALEZ, AJ. (1974). Safety Factors: A Conceptual Review - Tesis - Imperial College of Science and Technology , University of London, Londres, 1974 GONZALEZ, AJ. (1989). Desarrollo e Inserción Social de la Ingeniería Civil en Colombia. Informe para la Misión de Ciencia y Tecnología FONADE - Bogotá, Enero, 1990 - 203 pp., 3 Anexos GONZALEZ, AJ. (1990). Estado de Desarrollo y de Inserción Social de la Ingeniería Civil en Colombia.- en "La Conformación de las Comunidades Científicas en Colombia"- Misión de Ciencia y Tecnología-Volumen 3-Tomo 2- pp 691-734 -M.E.N.-D.N .P.-FONADE-1990. GONZALEZ, AJ. (1991). Algunas Anotaciones sobre la Investigación y Docencia en Ingeniería Civil - ACOFI, Bucaramanga,1991 GONZALEZ, AJ. (1994). Riesgos en Infraestructura y Servicios - Informe para la Corporación para Prevención de Riesgos del Desarrollo- CORPREVER- Enero 1994. GONZALEZ, AJ. (1995). Anotaciones sobre la Prospectiva Tecnológica de la Ingeniería Civil en Colombia - ACOFI, Bogotá, Mayo de 1995. GUHL N., E. (1988). Tecnología en Colombia, Dependencia o Desarrollo Propio- Anales de Ingeniería Vol. XCVI-No. 837 - Sociedad Colombiana de Ingenieros- 1988. RANKINE, WJ.M. (1858). A Manual of Applied Mechanics - 3rd. Ed. - Charles Griffin & Co- London, 1864. VASCO U., C.E. (1988). La Informática en los Programas de Matemáticas de la Educación Básica - en Educadores' e Informática-Promesas, dilemas y realidades- pp.77-102 - Colciencias, 1988.
2. THE TECHNOLOGICAL FUTUROLOGY OF THE CIVIL ENGINEERING
2.1. PROBLEMS IN THE UNIVERSITY
2.1.1. The National University, in spite of all the efforts, continues being principally an entity transmitter of technology and not a center originator of knowledge and creator of technology, being subject to the sways presupuestales governmental, with a list profesoral frozen for several years and a physical infrastructure in full decadence and obsolescence.
2.1.1.1. The investigation looks in most of the cases as a necessary evil, but there is neither a clear sense nor widespread vocation of the professorship for this activity, except for the projects and thesis of degree. The bonuses for the works of investigation, they are calculated and are granted of remnants, if they are, of the external contracts, except few exceptions.
2.2. PLAN OF STIMULUS TO THE INVESTIGATION
2.2.1. It is logical that what goes away to enunciate later it seems to be Utopian, but normally the long-term goals like that are. The University must be totally autonomous and his organic structure must transform to include investigation and teaching as basic and complementary activities, between yes and in this order. This would involve a total reorganization which almost all the departments would be institutes of investigation, with organization and personnel for such a end. The leaves of work would fill first with the work of investigation and as complement in the respective courses and not on the contrary since it happens today.
2.2.1.1. It is necessary to to make a notable increase in the remunerations to the investigative teachers and establish clear rules in the class and scope of the works on the outside of the University yen the distribution of the surpluses between the University, the Faculty and the Investigative Departments. There must be had a plan and agile mechanisms of production, acquisition, maintenance and renovation of equipments, books and materials of investigation and teaching. In this aspect it is sinnúmero of entities and institutes of many countries ready to help, and these helps can be accepted ' without this implies acting deceitfully in the autonomy of the Country or of the University. It is possible to establish agreements and to sign contracts with long-term plans with the state entities in charge of the infrastructure.
2.2.1.1.1. Se debe establecer una política clara a largo plazo de publicaciones, con colecciones periódicas, incremento de revistas especializadas y estímulos a las personas que producen las publicaciones, con puntos, premios y distinciones. Por otro lado es indispensable la mejora e incremento de los centros de documentación y bibliotecas, con su modernización e incorporación a las redes internacionales de datos. Con lo anterior es de esperar una mejora automática de la docencia, los postgrados surgen naturalmente y su calidad se ve incrementada a medida que avanza el proceso.
3. ENGINEERING AND CIVIL ENGINEERING
3.1. ENGINEERING
3.2. The Engineering in general can be defined as the APPLICATION OF THE BEGINNING CIENTIFICOSPARABENEFICIODELHOMBRE CREATING MEANS FOR THE SATISFACTION SOCIAL OR INDIVIDUAL DENECESIDADES.
3.3. CIVIL ENGINEERING
3.3.1. The Civil Engineering deals with the managing and control; to macrocospic level, of forces, processes and materials, principally natural, in order to provide the indispensable infrastructure to the means of production. For it it carries out the conception, design, construction, operation and maintenance of the corresponding works and in addition, as his narrow relation with the physical way it has an essential labor in the processes of prevention, managing and recovery before natural disasters.
4. WORKS OF INFRASTRUCTURE AND SERVICES
4.1. The elements or works of infrastructure, of agreement to the human need that they satisfy, without trying to be exhaustive, can qualify as he appears hereinafter. In this classification there have omitted those works that are destined to the elusión or mitigation of risks, or those who are done by merely warlike ends. In this table there is indicated in addition the spatial typical conformation of the works of infrastructure (inside which usually the mobile elements are excluded) categorizing her in four classes: punctual, linear, in network and extensive.
5. FIELD OF ACTION AND SPECIALITIES
5.1. FIELDS OF ACTION
5.1.1. The Civil Engineering works with macrocospic behaviors, though it must know the interrelationships to all the scales to understand the processes in that he is interested. For his scale of work, the major physical field of action and for ende of investigation it is the work (in terms ingenieriles) and the area where it is implanted.
5.1.2. It works both with materials elaborated or transformed by the man and with natural materials (air, water, land) and elements and natural processes of more difficult prediction and control (rivers, valleys, hillsides, coasts, rains, earthquakes, vulcanismo, floods, etc).
5.2. SPECIALITIES
5.2.1. All the engineerings are based, in general, on the same basic sciences: Physics, Chemistry and Mathematics, but proportion in which they intervene and his use they depend on the application that needs the specific branch of the Engineering. So they are 8 the fields of specialization: Environmental Engineering Sanitary Engineering Structural Engineering Geotechnical Engineering Hydraulic Engineering Engineering of Routes and Transport Engineering construction
6. TECHNOLOGICAL FUTUROLOGY IN CIVIL ENGINEERING
6.1. GENERAL PRECEDENTS HISTORICAL
6.1.1. In the primitive epochs, as the progress was in preparation and the already sedentary communities were consolidated, since in any social species, the division of the work became necessary by the fm to use in a more efficient way the human capacity, under the needs of a company in expansion. The construction of housings, ways, bridges, temples, regadíos and similar works had his own craftsmen and, more or less as today, the major works were at the expense of governmental organizations.
6.1.1.1. Nevertheless, these skills, which usually were meaning efforts and power, were also an arma de doble filo. Often the knowledge was acquired in the as hard as possible form, since in you cause the mistakes they were paid by the life of the responsible builder. Nevertheless, in spite of these extreme measures, very surely they happened you fail and of them were learned lessons, which they were analyzed, guarded and transmitted in order futures avoided accidents and failures. But the inheritance of these improved methods usually expressed by means of empirical or magic rules, generally only was spreading to the pequefto apprentices' circle, especially if a knowledge was meaning power or potential death to his holder.
6.1.1.1.1. Sin embargo, aún con estos avances, cuando se creía que había una confianza suficiente en los métodos de análisis y construcción y se aventuró un paso más a una innovación o magnificación de los trabajos, del otro lado, como en los viejos tiempos, se encontraba esperando el fracaso. El Ingeniero entonces aprendió y hoy sigue aprendiendo que muchas de esas fórmulas y métodos que él estima como exactos, completos y precisos, no lo [ion y que hay severas limitaciones en numerosos aspectos.
6.2. TECHNOLOGY WORLD LEVEL
6.2.1. In a summary of this nature it is very difficult to present in complete form so vast field, for what obviously there are intrinsic limitations, the most important that of the own Author.
6.2.1.1. GENERAL FRAME
6.2.1.1.1. In the countries developed of Europe and North America the basic infrastructure and in a concomitant way the Civil Engineering, they evolved in form accelerated from the Industrial Revolution at the end of the 19th century and precisely one of the clear indexes of development of a country is the satisfied credit his basic needs of infrastructure and services. In these countries the groundwork was carried out in his most in the first half of the present century, but still there continue being executed works of infrastructure, adapted to the conditions.
6.2.1.2. GENERAL TRENDS
6.2.1.2.1. Inside the context previous and already satisfied in great proportion the basic needs of infrastructure, in the developed countries are obvious trends to: Mechanization and consequent reduction of the workforce in the construction. Preservation and modernization of the existing infrastructure. Minimization of problems of pollution and preservation or still recovery of the existing niches of natural life. Reduction of the impacts for natural disasters. Optimization of the design and control of construction of the works, with systematized processes and integrated approaches (Total Quality and Reengineering).
6.2.1.3. PARTICULAR TRENDS
6.2.1.3.1. The principal needs of any human community are: health, supply, education, housing, energy, work, transport and recreation, all interrelated and that are not of total direct interference of the Civil Engineering, but which yes is present in the solution of all of them with his works of infrastructure, which in addition need of materials, analysis and instrumentation. In these fields of satisfaction of human needs certain trends are insinuated worldwide, exposed with the own limitations (Gonzalez, 1989, 1995)
6.2.1.4. TECNOLOGY IN COLOMBIA
6.2.1.4.1. Diagnosis
6.2.1.4.2. General futurology
6.2.1.4.3. Futurology for Specialities