Copy of Unit 4: OERs Curriculum Specific Resources
by
John Cuthell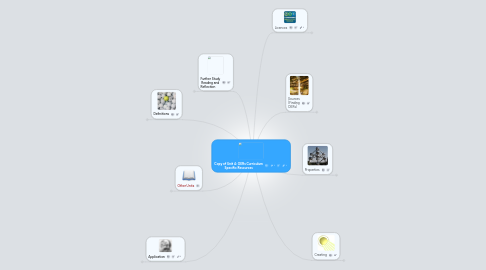 0.0
stars -
0
reviews range from
0
to
5
This MindMap has been designed to offer a logically structured visual approach to understanding the complex issues involved when creating selecting and using Open Educational Resources, (OER). The Sources Branch leads to many of the portals and sites that contain OERs, and  thismay be your first port of call if you are looking for Curriculum Specific  resources to use immeditaley, or to include in a new resource, The Map is also designed to cover the full gamut of practicalities from the selection and use of tools for creating content, through search and discovery, Copyright and IPR issues and enable a strategy for successfully implementing OERs within courses. The maps will include embedded hyperlinks, notes, video and papers together with suggestions for further study and research. Although there is  still  a great deal of potential to build on and extend this map, and we hope you may be enouraged to do so, we trust you will take time to explore each of the nodes and find useful ideas contents and resources. The Map also links to the MindMaps for the following Units of Study: (6, 7, 9): Unit 6: E-tools of teaching and Learning Unit 7: Professional Development and Researching Practice Unit 9: Working in a collaborative online environment  
Definitions
This branch explores some of the different definitions of OERs Image Credit: Nina Mathews Photography http://www.flickr.com/photos/21560098@N06/ CC BY
UKOER
MOOCs are not Open resources, as OERs. It may be likely that most MOOCs may include OERs; but OERS are not a pre-requisite within MOOCs. It is also worth noting the difference betwen xMOOC and cMOOC.
This node explores instances where the use of OERS may be apporpriate and the practice of using OERS .
Online Course
Online courses can be designed for local or institutional use.
Some examples of communities developing and using OERs
OER Use - Practical Examples
Conferences
Licences are fundamental to OERs number are a numbe of different 'Open' Licences available that can be used with OERs.
CREATIVE COMMONS offers
Public Domain
The Public Domain - please note - works may be in the Public Domain in one country but not in others, so using works in the may require careful research and selection.
© Copyright
Please Note - you cannot include Copyrighted © works in an OER - (without the owners permission). Even with such permission - it may not be far reaching enough to allow resource to be used in an OER. Therefore as a rule avoid including any resource that is ©.
Creating
This branch looks at the issues involved in creating OERS Creating OERs will be as likely to involve adapting and building on resources created by others, as creating completely new resources. Some familarity with digital tools,web skllls will  of course be an additional and  useful asset.   Image Credit: HEA Engineering Subject Centre http://www.flickr.com/photos/22760956@N08/ CC BY      
New Resources
Audience
Purpose
Curation
Tools
Skills
Media
Useful current user guide in Wiki format
Properties
Properties: Why Use OERs? Waht is it about OERs that makes them valuable branch lists the attributes which make OERs valuable for learning. Image Credit: Caudio Ar http://www.flickr.com/photos/claudio_ar/ CC BY NC SA
Sustainability
OER content should be sustainable - if using online resources - try to judge what their permanence might be.
Open Learning
Open learning must be free and accesible anywhere.
Knowledge Building
No need to reinvent the wheel
Transferability
A resource can easily be transferred form one context to another.
Open Content
Open Content must be free, accesible and allow adaptation.
Shareable
Content must be easliy shared
Open Access
Sources (Finding OERs)
This is a your starting point for exploring the wealth of reseources that can be used for creating OERs. All the nodes here link to 'Open' resources freely available on the Internet.  Whilst not all are necessarily complete OERs in their own right they can be combined to create new learning resources. Some resources will be free and open  - others will phave conditions of use   such as this example and suggestions from from OER commons "Conditions of Use No Strings Attached Remix and Share Share Only Read the Fine Print" Image Credit Theo Kuechel
Academic Institutions
Wiki Foundation
Wellcome Trust
The `National Archives invite you to use their historical sources to recreate your own tasks for groups or individuals in the classroom. You are free to download our images to create your own teaching materials provided they are presented with a document reference and linked to the website. However, images for commercial publication will have to observe the usual terms of copyright.
The key goals of The Commons on Flickr are to firstly show you hidden treasures in the world's public photography archives, and secondly to show how your input and knowledge can help make these collections even richer. You're invited to help describe the photographs you discover in The Commons on Flickr, either by adding tags or leaving comments.*
Will resources and b artefacts from many European museums archives and collections, Europeanna
Video Platforms
YouTube, Vimeo and BlipTv are video platforms designed to hold User Generated Content. Many organistaions and Professional users and organisations also upload to these platforms and whilst the quality of the resources can be very mixed, there is still valiuable resources in terms of content and qaulity on all. All the three video paltforms  include Creative Commons Licensed Videos that can be downloaded and used within OERs, but it is very important to read the licences and terms of use. It is also worth noting that all allow most videos to be "embedded" in a web page and because  you are not actually downloadign the video content - it is possible to use these in OERs.
The US Library of Congressis is "the nation's oldest federal cultural institution and serves as the research arm of Congress. It is also the largest library in the world, with millions of books, recordings, photographs, maps and manuscripts in its collections." It is a vast portal,  well worth spending time exploring; many of its resources have Open licences  or  are in the Public Domain.
Further Study Reading and Reflection
These resources will be upodated regularly. Image Credit: Ian Levack CC_BY_NC-ND http://www.flickr.com/photos/ianlevack/with/3705304317/#photo_3705304317
READING
DEBATES
REFLECTION