Impact of Information Technology on sustainable development (1)
by Zamasishy Madlala Sanely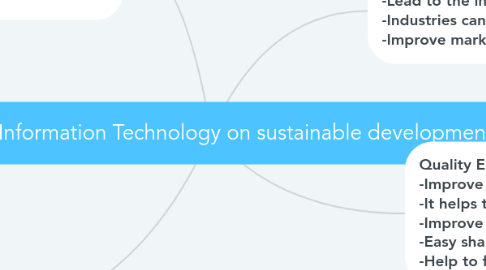 1. Quality Education : -Improve the method of teaching and learning. -It helps the teachers and students in gaining an up-to-date information and knowledge. -Improve the storage of information. -Easy sharing of knowledge. -Help to find the information quickly and accurately.
2. Industry : -Lead to the increase of the productivity in the ICT-producing industries. -Industries can reduce costs, streamline processes and increase efficiency. -Improve marketing tactics.
3. Innovation : -Measures the extent of organizations growth and progress. -Development of new systems. -Innovation make businesses run more efficiently. -Enhances quality.
4. Infrastructure : -Increase the effective capacity of our infrastructure. -Reduces maintenance. -Improves reliability. -Promotes safety.