Carr and Springer-Problem-Family structure's influence on physical and mental health in children and adults
by Amanda Solimar Maldonado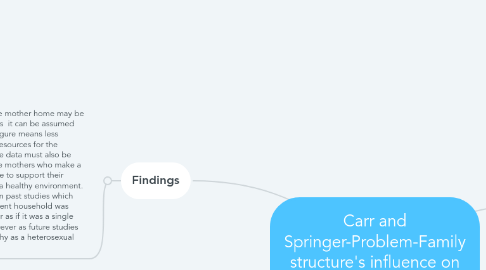 1. Hypothesis
1.1. Early studies focused on how single parents and having two-biological parents influenced children's mental health positively. But in more recent studies there have been many changes to family structure. The recent study focused on 3 main points. First the complexity of family structure such as, divorce, remarriage, SES etc. The secondly the involvement of a father figure. (Biological, non-residential biological, resident non-biological). Lastly, the time family transition and the duration of household arrangement.
2. Methods
2.1. The researchers focused on physiological data as they felt that a child would be too young to report their health accurately.
3. Findings
3.1. In past research a single mother home may be considered unhealthy as it can be assumed that the lack of father figure means less income as well as less resources for the children. However, more data must also be done as there are single mothers who make a good living and are able to support their family and still provide a healthy environment. This was also the case in past studies which assumed that a gay parent household was considered unhealthy or as if it was a single parent household. However as future studies proved it to be as healthy as a heterosexual parent household.
4. Conclusions
4.1. As a result of this data it was proven that it is possible for there to be a variety of combinations when it comes to the complexity of the family structure. There is also relationship building within the family structure which play a role on health.
5. Future Research
5.1. According to the article there is still a need for research within communities and minority groups. It is important to understand as culture also plays a role on behavior and influence on health.