INHERITANCE
by NOT HERE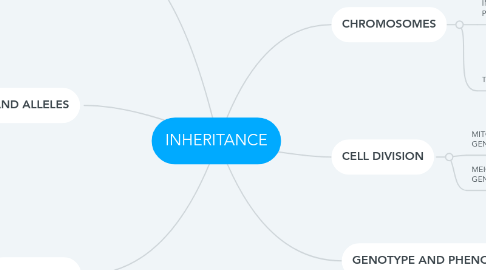 1. CHROMOSOMES
1.1. DNA (LONG THREADS WITHIN CHROMOSOME THAT CARRIES INSTRUCTIONS REGARDING PROTEIN PRODUCTION)
1.1.1. GENETIC CODE
1.1.1.1. DNA HAS 4 TYPES OF BASE (A, C, T, G); PROTEINS HAVE 20 AMINO ACIDS. A CERTAIN BASE COMBO WILL CREATE A CERTAIN AMINO ACID.
1.1.2. PROTEIN SYNTHESIS
1.1.2.1. HAPPENS IN RIBOSOME (CYTOPLASM). RNA (RIBONUCLEIC ACID) CARRIES INFORMATION FROM DNA TO RIBOSOME.
1.2. TWO TYPES:
1.2.1. HAPLOID (SINGULAR CHROMOSOME SET)
1.2.2. DIPLOID (PAIR OF CHROMOSOME SETS)
2. CELL DIVISION
2.1. MITOSIS: NUCLEAR DIVISION CREATING GENETICALLY IDENTICAL CELLS
2.2. MEIOSIS: NUCLEAR DIVISION CREATING GENETICALLY NONIDENTICAL CELLS
3. STEM CELLS
3.1. DIFFERENTIATION: CELL CHANGES FROM ONE TYPE TO A MORE SPECIALISED TYPE.
3.2. TWO TYPES
3.2.1. EMBRYONIC STEM CELLS: DIFFERENTIATION IS UNLIMITED
3.2.2. ADULT STEM CELLS: DIFFERENTIATION IS LIMITED
4. GENES AND ALLELES
4.1. GENES: PART OF DNA PROTEIN CODING
4.2. ALLELES: SPECIFIC FORM OF A GENE
4.2.1. DOMINATING
4.2.2. CODOMINANCE
4.2.3. RECESSIVE
4.3. GENE BREEDING
4.3.1. PURE: HOMOZYGOUS (EXISTENCE OF TWO IDENTICAL ALLELES)
4.3.2. IMPURE: HETEROZYGOUS (EXISTENCE OF TWO UNIDENTICAL ALLELES)
5. SEX LINEAGE
5.1. X CHROMOSOME: LARGER WITH MORE GENES
5.2. Y CHROMOSOME: SMALLER AND SMALLER
5.3. X AND Y PAIRINGS
5.3.1. NON HOMOLOGOUS: CHROMOSOMES THAT DON'T BELONG AS A PAIR (CELLS REGARDING CELLS ARE FOUND IN NON-HOMOLOGOUS SECTIONS OF X AND Y CHROMOSOMES)
5.3.2. HOMOLOGOUS: CHROMOSOMES WITH IDENTICAL GENE SEQUENCE (E.G. *NOT* X AND Y CHROMOSOMES)
6. GENOTYPE AND PHENOTYPE
6.1. GENOTYPE: GENETIC MAKEUP OF ORGANISM THAT REGARDS ALLELES
6.2. PHENOTYPE: ORGANISM FEATURES