Cutting Edge Learning: tools for the EFL classroom of the future O.Meyer & TEAM EDID Johannes Gutenberg-University Mainz/Germany want to share/add to the map? please get in touch: omeyer@uni-mainz.de or follow me on Twitter: @Oliver_T_Meyer
by
Oliver Meyer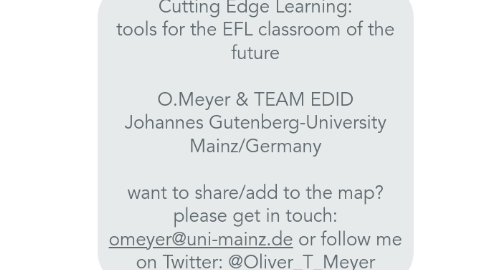 5.0
stars -
11
reviews range from
0
to
5
write
Penzu is a simple online tool for creating a personal journal.  
BoomWriter is a supremely engaging creative writing website that has students reading, writing and assessing content in ways they've never done before!
The Newspaper Clipping Generator lets you create your own newspaper articles very easily. Unfortunately you can't include any pictures/images, but still great for f.e. tests!
Work on your vocabulary and improve your writing skills. Find synonyms, antonyms, collocations. Great graphical UI.
iFakeText is a tool to create fake screenshots of an iPhone text message. You simply write your name, then choose an operator and write your text in the box that is provided. When you click the link "Create your Screenshot", it provides you the picture that you see on the left. When it is ready, you can screenshot it or you simply share it with others via different social networking platforms or with a link. Here are some ideas on how we can use this tool with our students: Children can make two characters from a book to text each other. Two famous people can text each other. Children can create short poetry using this tool. We can provide some part of the text and ask children to write their guesses of the other person's answers. Children can practice a dialogue, or questions and answers. We can provide children the conversation and ask what has happened before and after. We can use this tool to explain the meaning of a vocabulary. It can also be a good idea to use this tool to practice advices or suggestions. I believe, it is a cool tool to practice writing activities with our students in a fun way. As our children love texting each other,this can be a fun tool to bring in the classroom.
listen
- Set listening for homework - You can search for and select audio exercises for your students that are on a relevant topic and at an appropriate level. You could also let your students select their own listening activities for themselves or each other and they could discuss what they learned from the information content in class.• Let students select the listening – You could ask your students to add links to audio files that they want to understand such as song mp3s, news reports or interviews, then you could create the dictation activities and transcriptions to go with the audio (or hope that someone else does)• Create your own activities - You can create your own dictation activities for your students based on the audio files that you want them to understand.Set listening for homework - You can search for and select audio exercises for your students that are on a relevant topic and at an appropriate level. You could also let your students select their own listening activities for themselves or each other and they could discuss what they learned from the information content in class.• Let students select the listening - You could ask your students to add links to audio files that they want to understand such as song mp3s, news reports or interviews, then you could create the dictation activities and transcriptions to go with the audio (or hope that someone else does)• Create your own activities - You can create your own dictation activities for your students based on the audio files that you want them to understand.
Definition: a podcast is an audio or audio-video recording you can listen to live or on demand, and access via the Internet. Potential uses for podcasting in education: news/updates; guest lectures; student-produced podcasts; interviews; short language lessons or other lessons focused on developing listening and speaking skills, and supplementary material such as speeches or music
Podcasting in education
"Education Podcast Network"
read
This WPSU interactive The Detective's Notebook Game is designed to get students to think about what they are reading and to answer questions that require inferencing. In the game the student has access to an amateur detective's notebook in which several clues or events have been observed. From these clues, some inference or prediction can be made. The game is part of Blue Ribbon Readers, a collection of games designed to help elementary school students learn to read.
CuePrompter is a free teleprompter/autocue service. Your browser works like a teleprompter - no extra software needed! Can be used for presentations. CuePrompter is a free teleprompter/autocue service. Your browser works like a teleprompter -no extra software needed.
"...full of pieces across art, design, science, technology, philosophy, history, politics, psychology, sociology, ecology, anthropology, you-name-itology. Pieces that enrich your mental pool of resources and empower you to combine them into original concepts that are stronger, smarter, richer, deeper and more impactful."
Review about the Free SketchPad Explorer iPad math app for grades 3 to 12.
Insights from a iPad model implementation at the Seton Hill University.
Cliff Notes
SparkNotes
This multimedia series, Invitation to World Literature, provides you an insight into thirteen different literary works from a range of eras, places, cultures, languages, and traditions. The websight will introduce you to the richness and purpose of World Literature, its timeless stories, its living characters, and its diverse cultural origins and contexts. (+ 30 minutes documentaries!)
Shakespeare Searched is a search engine designed to provide quick access to passages from Shakespeare's plays and sonnets. We aggregate search results by topic, work, and character to make it easy to find exactly what you're looking for. From something as simple as identifying the speaker of a particular quote to discovering underlying thematic elements across works, Shakespeare Searched has you covered.
Pre K-1: Violet's Music
Blue Ribbon Readers: The Questioning Cube Game (K-5)
dictionaries
Is a online dictionary for pupils, students and teachers which offers pronunciation examples and clear definitions.
On the one hand you will find the world's fastest, smartest dictionary, one the other hand the website offers you the possibility to improve your vocabulary by: 1. Answer a few questions We've created more than 40,000+ questions designed to help you learn word 2. We build a model of your knowledge Our magical technology models your brain. The more you play, the more we know about your vocabulary knowledge. 3.We predict which vocabulary words you don't know and teach them to you Get a question wrong? We'll schedule Review and Progress questions so that you'll learn the word, and won't forget it in the future. 4.You learn useful words and improve your vocabulary Track your progress as you quickly master the words that are essential to success in an academic or business environment.    
Forvo is a multilingual user generated pronunciation dictionary. You can search and find the pronunciation of words from a vast range of languages. You can also add words yourself and record the pronunciation or add words that you need the pronunciation for and wait for someone to record the word for you. Most of the pronunciations have additional information about the nationality, ethnicity, geographical origin of the speaker, so where words have more than one pronunciation example it's possible to compare different accents.
The Visual Dictionary is designed to help you find the right word at a glance. Filled with stunning illustrations labeled with accurate terminology in up to six languages, it is the ideal language-learning and vocabulary dictionary for use at school, at home or at work.
One of the best free tools available to teachers and students who are learning with the world rather than about the world is Voicethread. Known as a "group audio blog," Voicethread allows users to record text and audio comments about uploaded images. Voicethread has two distinct advantages for classrooms that are communicating and collaborating across counties, countries or continents:   Voicethread is Asynchronous: That means users can work on and enjoy Voicethread presentations at any time--even if their "partners" are sleeping a million miles away! Voicethread is Engaging: Let's face it--sometimes working with digital partners can be pretty boring. After all, email and discussion boards are nothing more than written text. Voicethread gives users something interesting to talk about---pictures! What's more, being able to actually hear one another makes digital communication through Voicethread much more personal.  
eduClipper is your educational digital clipboard. Clip Everything. Share Anything.
This collaborative blog and curated collection of free and open resources is produced by the Digital Media and Learning Research Hub, which is dedicated to analyzing and interpreting the impact of the Internet and digital media on education, civic engagement, and youth.
A Collaborative Guide to Best Digital Learning Practices for K-12
Sie geben hierfür öffentlich +1. Rückgängig machen Einfach Mind Maps erstellen, teilen und gleichzeitig bearbeiten mit der führenden Online Mind Mapping Software.
example for mindmeister:Tools To Enhance Your Personal Learning Environment
Wallwisher is like a virtual ʻsticky' notice-board, though unlike real notice-boards you can post stickies with text images, links to websites and even videos. The notice-board is really simple to use and you can set access rights so that anyone can view and or post to it or only restricted people.
Edmodo is a secure, social learning platform for teachers, students, schools and districts. A safe and easy way for your class to connect and collaborate, share content and access homework, grades and school notices. The goal of this website is to help educators harness the power of social media to customize the classroom for each and every learner.
"Fakebook" allows teachers and students to create imaginary profile pages for study purposes.
This is a nice tool for collaborating. You can easily invite others to participate, and there are plenty of useful tools for drawing and editing. You can also chat or use voice to communicate with each other.
Facebook
5 Reasons Why Educators Need To Embrace Internet Technologies
University of South Florida teacher uses Facebook in class
Texas Kindergarten Teacher communicating with Parents via Facebook
Classroom 2.0 Discussion Forum
Jay Dsfsu's Youtube Channel with describing videos, The Basics of a Facebook Page for Educators, Privacy on Facebook for Educators, Setting up a Facebook Group for Your Class
100 Ways You Should be Using Facebook in Your Classroom
25 Facebook Apps That Are Perfect for Online Education
How To Use Facebook Questions In The Classroom
Facebook Summit 2011
10 Beneficial Facebook Pages For Educators To Check Out
Learning Management Systems
Course Sites by blackboard
Ecto Learning
MyiCourse
rCmpus
Schoology
SchoolRack
Empowering and connecting teachers, administrators, and parents with innovative solutions and resources to better education.
Room 21™ is an Online Social Learning Platform where all the members of the learning community (Students, Parents, Teachers, and Administrators) become engaged in the 21st century learning process.
The largest community of youth interested in global issues and creating positive change
This year's updated digital booklet contains 65 pages of articles and insights into dozens and dozens of the Internet's best free Ed Tech resources.
education related resources that Apple Computer has made available
Free Resources and Lesson Plans for Teaching with Technology
Free email and collaboration tools for schools
Microsoft Live@edu customers will be upgraded to Office 365 for education. This upgrade extends your investment in Live@edu and gives students, faculty, and staff: Free access to key Office 365 tools Ability to work from virtually anywhere and share calendar and files Their same Live@edu email address plus new communication and collaboration tools
Dokumente mit Google Docs gemeinsam online erstellen und bearbeiten
collaboration, business and productivity applications
... is a free service that lets you bring your photos, docs, and videos anywhere and share them easily. Never email yourself a file again!
Making group work easier for students and educators
Fully Functional Windows 2010 on the iPad for free
Mind Mapping
These tools offer free functionality that extend and enhance the possibilities for instructional uses of Twitter.
EmergingEdTech is on Twitter
With Twitter you have the potential to reach millions of users instantly. Use it to issue public safety alerts, broadcast real-time news developments, inform constituents, or solicit feedback. It's free and easy to use – here's how to get started.
In this Vlog, Christine Morris explains how she experimented with the technology with her higher ed students, tapping into Tweetdeck to get the most out Twitter.
Blogging
Blogger.com
Edublogs
Teacher's blog
Free Technology for Teachers: 21 Map Creation Tools for Students and Teachers | ...
Classroom Blogs
Student blogs
How to set up a classroom blog: 10 Essential Steps
Administrator's Blogs
Educational Technologist's Blogs
WordPress
Eric Blue's Blog » 15 Effective Tools for Visual Knowledge Management
English Raven: Moodle Tutorials from English Raven
Magnoto: Freestyle Blogging & Website Building
Twitter in the Classroom
Edu 2.0.org is a learning management system/learning platform where users can teach and learn online. Can be used in grammar schools, universities, facilities...
10 Ways to Use Learnist in the Classroom
5
Just because you're online doesn't mean that you can't experience the world first-hand — or as close to first-hand as possible. On this website you will find websites that feature virtual learning experiences, exposing online visitors to everything from history to geography, astronomy to anatomy, literature to government.
Watch. Practice. With over 3,300 videos on everything from arithmetic to physics, finance, and history and hundreds of skills to practice, we're on a mission to help you learn what you want, when you want, at your own pace.
This website is great! You can find videos, articles, quizzes and games for almost every topic! It totally is a fun web page!
This youTube list is provided by SmartTeaching.org, a leading online resource for current teachers, and aspiring education students and student teachers. The list is divided into categories, such as history, science, language, arts, inspiration, classroom-management, how-toes and guides, as well as technology and humor.
General Video Lecture Sites
Academic Earth
Apple's "iTunes U":
The OpenCourseWare Consortium
Free Video Lectures
Videolectures.net
LearnersTV
Lecture Fox
YouTube EDU
Video Lectures Sites from Specific Universities
MIT OpenCourseWare
Open Yale Courses
Stanford University's YouTube Channel
UCLA "BruinCast"
The wealth and quality of content available from TED Talks is thoroughly impressive. This article, "8 Great TED Talks About The Future Of Education And Teaching", from June of last year, is a great introduction to the wonderful talks available to everyone through TED.
A web site that hosts educational videos which are "deeply and usefully categorized according to subject, education level, and placed in the order in which topics are typically taught"
This free page contains hundreds of animated explanations, interactive tutorials and instructional videos, all sorted by topics like "health", "ecology", "sports"...
A Dozen Free Online Video Lecture Sites
This website is similar to YouTube.
ESLVideo is a site that enables you to create web based interactive quizzes based around online videos. You can create a variety of multiple choice type questions, add transcripts or translations, add notes , etc. Once you have completed your quiz you can either send students a link to it on the ESL Video site or you can embed the quiz into your own website or blog.
Simply put teachem allows anyone to create a class from YouTube videos by adding time stamped flashcards and review questions.
create
presentation
280 Slides
wordle
Piktochart
Zoho Show - Online Presentation Tool
Free microsoft tools in the classroom
Slide Transitions
Custom Animations
Templates for PowerPoint from Microsoft, Set of dozen backgrounds, advanced set of templates
Audio elements, Add Audio or Music to Your PowerPoint Presentations, Slideshare Presentations Plus Audio, Audacity
Presentation magazine
Zentation: Webinar software
Advanced PowerPoint Tutorials, More Advanced Features in Microsoft PowerPoint, Advanced Power Point Tutorial Video search results from Bing
Online Presentation Tools for E-Learning, Prezi, Slideshare
Screencasting with JING
Screenpresso
Screenr
Screencast-O-Matic
Screencastle
Webinaria
CamStudio
Faculte
NCH Software
fun free presentation tools, Prezi, Glogster, Vuvox, OneTrueMedia, Voki
Making the Rudolph Music Video (a Web 2.0 story)
5 Reasons Why I Think Camtasia Rocks
8 Great Free Digital Presentation Tools For Teachers
Free screencasting – easy; free video editing – not so much
Screencasting with Debut's Lite Version
Vuvox Rocks
creating pp games, Jeopardy game, pp file 1, pp file 2, crossword
Smart Exchange
Topmarks
Power Point, Jazz up your pp slides, Tipps on using pp slide animations, Free picture and text effects template, Presentation Magazine, Slide Speech
PowToon: Create Animated Videos and Presentations
videos, movies, quizzes, games, images
CLASSTOOLS
TokBox
Dvolver Moviemaker
Virtual worlds, Second Life, Art Galleries, System Requirements, The Future of 3D Technology, Three great YouTube videos about Educational uses of Second Life, Google's Liquid Galaxy Project, Cool insight into the future of virtual worlds & virtual reality
thinglink.com: Make your Images Interactive
Makeuseof.com: Creating Infographics
Holt Interactive Graphic Organizers
Tagxedo: Word Clouds with Styles
Puzzle maker
John's word search puzzles
Easy Test Maker
Quiz Star
Go Animate
Tech Tools that help you to support creativity in the classroom. Divided into different categories. like creativity, fluency, flexibility, originality, and elaboration. this website is loaded with lots of links to programms that might help you with your preparation for the classroom (e.g. PREZI, sliderocket, POPPLET, and many more).
Allows you to create multiple-choice or fill-in-blank assignments in just 5 steps AND grades the assignments automatically.
The Differentiator is a website that helps you write objectives based on Bloom's Taxonomy.It is a great tool for teachers to be continually asking themselves how they are differentiating the tasks that they set their students.
Templates
The templates can be downloaded, saved to your hard drive, edited as necessary, and then printed. Or they can be downloaded, printed, and used as is.
Awards Certificates
Bookmarks and Book Plates
Calendars & Classroom Organizers
Flash Card - study stack
Flash card exchange
Form filler
Holiday & Seasonal Worksheets
Super Teacher Worksheets
Newsletters
Monthly News
Free Internet Tools for Teachers
Clipart
Add graphics to your next project, whether it's for home or school. Choose from hundreds of original clip art pieces, including animations!
DiscoveryEducation
School-Clipart
TeacherFiles
abcteach has a growing library of fun and engaging interactive files for you to use with your students.
Rubrics
RubiStar
Rubrics 4 Teachers
iRubrics
FlippedTextbook.Com helps you make online textbooks for flipped courses. Anything from one chapter, to a complete textbook.
Picture, Photo, & Image Editing & Organizing
Aviary
Foto Flexer
Photo Funia
Picasa
Pixenate
Fotobabble
RANDOM.ORG offers true random numbers to anyone on the Internet.
At Google, we support the education of families on how to stay safe online. That's why we've teamed up with online safety organization iKeepSafe to develop curriculum that educators can use in the classroom to teach what it means to be a responsible online citizen. The curriculum is designed to be interactive, discussion filled and allow students to learn through hands-on and scenario activities. On this site you'll find a resource booklet for both educators and students that can be downloaded in PDF form, presentations to accompany the lesson and animated videos to help frame the conversation.
Categorizing educational applications of mobile technologies into four types. Keywords: m-learning; e-learning; u-learning; transactional distance theory; cultural-historical activity theory; distance education; mobile technology.
practice
Vocab
Vivid Vocab
iVerb
Tools for Educators - free worksheet templates, printable game templates, ...
Vivid Vocab Video - YouTube
SpellingCity.com
Vocabster
Highlighting Lexical Chunks with Diigo
Flashcardstash
Grammar
Gramster
English4u
Ego4u
Oxford Practice Grammar
Road to Grammar
Self-Study English Grammar
Check your grammar online: Grammarly
language
Mindsnacks I Gamification Blog
Super Readers Challenge : PBS LearningMedia
Idiom Site.com: Find out the meaning of common idioms
Writing
The Write-n-ator! Writing for younger students:
Easybib- Guides to better Writing
Spelling
SpellingCity.com
Speaking
Voxopop: A voice-based eLearning-Tool
iPhone Apps
..for Educators
Whether you're a photographer looking for a photography portfolio, a creative in need of an art portfolio, a designer searching for a graphic design portfolio or illustration portfolio, a writer looking for a way to show off writing samples, or even a model, FolioHD is the fastest and easiest way to build your online portfolio.    
Manage your portfolio projects easily and use them everywhere you like. This plugin is very powerful and easy to use! You can create and manage your portfolio projects and add specific project information, for example your role and the team you've worked in. Add any media you like: YouTube, code snippets, text or any media from your wordpress built in Media Library. Besides it's easy to assign your projects to clients, categories or tags. This plugin provides an API which gives you the power to fetch all the data you want..
Writing portfolio - You can use it to set written homework task for students. These are then neatly stored and can be reviewed as a kind of writing portfolio and shared with parents or employers.
Wallwisher is like a virtual ʻsticky' notice-board, though unlike real notice-boards you can post stickies with text images, links to websites and even videos. The notice-board is really simple to use and you can set access rights so that anyone can view and or post to it or only restricted people.
ePortfolio is a powerful user-centered application for storing, organizing, reflecting on and sharing items that represent the individual learner. Within ePortfolio, users may include documents, graphics, audio files, presentations and more that reflect their own personal learning journey
Students can create and customize portfolios for academic for academic, career or personal uses; allows them to share their working progress with advisors, career counselors or employers.
organize: tools & more
Great tool for organizing/planning events (assigning tasks/jobs to the pupils...) or conducting polls; pupils just have to click once and everything works --> no tedious everlasting e-mail communication with the whole class.
Free tool for creating "top-notch web based surveys". You can then send them to anybody you want to in the form of links (via facebook, e-mail, twitter,...). SurveyMonkey then automatically analyzes the results, you don't have to do that yourself! Seems to be a real time saver!
Kubbu.com is a free e-learning tool designed to facilitate teachers' work and enhance the learning process by means of the following tools:1. Create activities, crosswords and quizzes for online practice, revision and examination2. Easily create and manage stundents' and groups' accounts3. Track students' and groups progress using result database4. Quickly preparing papers (quizzes, crosswords...)5. Send individual group e-mails6. Creating online space7. Share activities with other teachers
Android Apps
Attendance
Grade Book
Grade Rubric
Grade Ticker
lesson plans
A to Z teacher stuff
Discovery Education
Scholastic
Teacher.net
Lesson Plans Page
Evernote erinnert sich für Sie an die kleinen und großen Ereignisse Ihres täglichen Lebens. Über den Computer, das Handy, den Tablet-PC oder das Web.
save time and your thoughts with read it later
Edu 2.0.org is a learning management system/learning platform where users can teach and learn online. Can be used in grammar schools, universities, facilities...
What it is: Meraki lets you centrally manage mobile devices, macs and PC's from the cloud based dashboard.  The systems manager makes it simple to centrally manage applications on iOS, Android, Mac and PC devices.  It integrates with Google Play, Amazon Appstore, Apple App Store and Apple's Volume Purchase Program.  In addition to being able to manage apps, Meraki makes it easy to enforce and deploy restrictions on mobile devices. Choose how your students access the app store, gaming and content, how they connect wirelessly, security settings and remote VPN access. Meraki has a virtual backpack where content can be shared with devices.  Files and documents can be added and sent wirelessly.  Separate backpacks can be delivered to different classrooms so that the correct documents are shared with the students who need it.  The cloud platform makes 1 to 1 projects and BYOD (bring your own device) roll outs manageable.  The best part?  Meraki is 100% free.  You just can't beat that! How to integrate Meraki into the classroom: This is one of those tools that I WISH I had seen before I spent $3,000 on another solution.  Blerg.  Live and learn, right?  Next year, this is the solution I will be using to manage all of our BYOD iPads at Anastasis. It has everything that we need.  The integration with Apple's Volume Purchase Program is pretty fantastic.  This is a great way for the school to purchase and manage educational apps that we want to share with students.  The cloud management means that we can manage devices from anywhere and we don't have to have a dedicated server to do it.  I can do a lot of things, but managing servers is not one of those things that I want to spend my time doing! Meraki is a great solution for whole schools or single classrooms that need to manage devices.  I love that Meraki can be used for a school initiated roll-out or in a single classroom BYOD initiative.  Either way the tools are easy to use and will make the integration of technology in the classroom run smoother.
gamify: interactive games & more
Preloaded:Games with purpose
Crickweb
Funbrain
Discovery.com's Games
Shepphard Software
National Geographic Games
FunSchool
Primary Games
Educational Games on NobelPrize.org
Prongo
Childtopia
Knowledge Adventure
Learning Games for kids
Multiplication.com
Play Kids Games
Hooda Math
4Kids.org
Math Playground
Mission US: For Crown or Colony? : PBS LearningMedia
Blogs
Play to Learn: Digital Games in ELT
learn: moocs & friends
Edu 2.0.org is a learning management system/learning platform where users can teach and learn online. Can be used in grammar schools, universities, facilities...
Educate yourself. Online College Classes is a free online educational resource center for students like you. Learning is a thrilling, rewarding experience that everyone should have a chance to pursue. Feel the same way? You've come to the right place.
differentiate
This page provides digital tools and strategies for improving lessons in a differentiated classroom (mixed pupil abilities).
The taxonomy of Socratic questions, created by Richard Paul, is not a hierarchy in the traditional sense. The categories build upon each other, but they do not necessarily follow a pattern or design. One question's response will lead into another category of questioning not predetermined by the teacher/facilitator. In keeping with the PBL philosophy, this aspect of the model is most conducive! The role of the skilled teacher/facilitator is to keep the inquiry "train on track," but, also, to allow the students to "travel to a viable destination" of their own design.
visualize:
Graphic organizers are an illustration of your thoughts on paper. They can help you brainstorm, organize, and visualize your ideas. Click on a graphic organizer to download a PDF of it. Once you've downloaded an organizer, type in your comments and print it out. Each graphic organizer below includes Teaching Notes with lessons and tips on how to use graphic organizers in the classroom.
create wow infographics for your audience
get in touch with others
United Classrooms is a FREE platform that connects classrooms around the world. When a teacher signs their class up, students can log in to a secure classroom profile page where they can share content with their own teachers, classmates and parents AS WELL AS collaborate with other classrooms across the globe. It unites students from diverse backgrounds in the creation of a safe and dynamic global community where knowledge, experience and relationship are shared beyond the classroom walls.
embrace new technologies
Interactive White Boards
9 insightful videos about using SMART Boards in the Classroom
PolyVision ēno whiteboards: A great alternative to the SMART Board
The Eno Interactive Whiteboard – A Teacher's First Glimpse
Taking Mimio's low-cost, portable Interactive White Board device for a test run
Using The iPad As A Digital Whiteboard (Plus 4 Cool Free Apps To Try It Out)
ZigZagBoard
SyncSpace
Jot!Free
4Free Digital Whiteboard iPad Apps
Dabbleboard
Whiteboards: Promethean Planet
6 free online collaborative interactive whiteboards
Augmented Reality
AR Apps
Apps in Education
iPads in Primary Education
EmergingEd Tech iPad Apps
Free iPad Apps for Educators and Parents
Apple iOS 6 Guided Access Boon for High-Stakes Testing with iPads
School Edition - BuzzMath
Preschool Memory Match
Times Tables Quiz!
Trainyard Express
BrainPOP Featured Movie
Amazing Shape Puzzle Lite
My Math App Flashcards
Math Puppy
Factor Samurai
40 Apps for Science
Animations & Drawing: Do Ink
go mobile/BYOD
become net smart
speak
What is Voki? Voki is a FREE service that lets you: Create customized avatars. Add voice to your Voki avatars. Post your Voki to any blog, website, or profile. Take advantage of Voki's learning resources.
Voxopop is a web based audio tool that enables users to record their speaking for others to listen and respond to. It allows teachers and students to build up threaded audio discussions online similar to those on a text based bulletin boardVoxopop is a web based audio tool that enables users to record their speaking for others to listen and respond to. It allows teachers and students to build up threaded audio discussions online similar to those on a text based bulletin boardVoxopop is a web based audio tool that enables users to record their speaking for others to listen and respond to. It allows teachers and students to build up threaded audio discussions online similar to those on a text based bulletin boardVoxopop is a web based audio tool that enables users to record their speaking for others to listen and respond to. It allows teachers and students to build up threaded audio discussions online similar to those on a text based bulletin boardVoxopop is a web based audio tool that enables users to record their speaking for others to listen and respond to. It allows teachers and students to build up threaded audio discussions online similar to those on a text based bulletin board
CLIL Tools