• Mexican Independence Day is celebrated on September 16 by Mexicans and people of Mexican ancestry around the world.
by oscar.castaneda oakland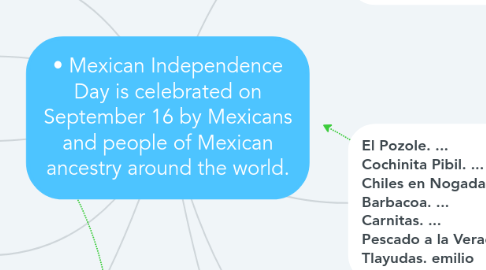 1. Pozole Tacos de asada torta ahogada
2. What are some traditional dishes of this celebration? tacos enchiladas posole burritos
3. enchiladas
4. If you were outside of mexico how will you selebrate? eating tacos
5. SEE FOOTBALL EAT TACOS POZOLE ENCHILADAS ETC LIVING WITH YOUR FAMILY
6. Mexico's War for Independence from Spain lasted for over 11 years, but September 16, 1810—when the fight commenced with a historic battle cry—is the date universally regarded as the nation's Independence Day. No surprise, the festivities are remarkable and take place not only in major Mexican cities like Jalisco and Mexico City, but around the world.
6.1. As one of the country's biggest holidays, along with the Day of the Dead, and Revolution Day (which celebrates the Mexican Revolution in the early 20th century), Independence Day means massive street parades, plenty of signature dishes, and rodeos. Unlike Cinco de Mayo, which is mainly celebrated in the city of Puebla, Independence Day is observed nationwide, with schools and businesses closed in observance. Phrases like "Viva Mexico" or "Viva la independencia nacional" are heard from crowds on the streets.st
6.1.1. Independence Day in Mexico is celebrated on the night of September 15, with typical food, traditional music, fireworks, usually with the family, with specific celebrations in each city hall or municipality of the national territory.
6.2. If you were outside of Mexico, how would you celebrate this day? I would buy some tacos or tamales
6.2.1. Yes, I will celebrated it eating mexican food or with my family playin mexican games. Valentina.
6.2.2. I would wear white, green and red clothes and celebrate by staying home and watching the celebration though the internet.
7. El Pozole. ... Cochinita Pibil. ... Chiles en Nogada. ... Barbacoa. ... Carnitas. ... Pescado a la Veracruzana. ... Tlayudas. emilio
8. How do you usually celebrated this important festivity? I pass the day with my family an friends
8.1. in family with a lot of mexican food
8.2. I stay in home with my family and we eat mexican food and we play.
8.3. Stating in my home and eating mexican food. Rodrigo
9. Currently, the Mexican Independence Day begins on the night of September 15 to 16 when different members of the Government, including the President of the Republic, carry the national flag while haranguing the population with a modified 'cry of Dolores' to the that each speaker gives a personal touch
10. I will play loteria, jump the rope, sack race, etc... Valentina.
11. It falls on the same date every year, honoring the country's fight for independence from Spain, specifically the moment a famed priest gave the "El Grito de Dolores" battle cry.
11.1. It is sometimes confused with Cinco de Mayo, a popular celebration in the United States, which commemorates the Battle of Puebla.
11.2. What are some traditional dishes of this celebration? Pozole,Enchilada,Sopes,Quesadillas and Tamales
11.2.1. traditional food of September 16 The party, often called Mexican night, includes mariachi music, fireworks, typical clothing and, of course, lots of food. Chiles en nogada. Pozole. Prepared toasts. The nopales. Tamales. Stuffed peppers. Chicken with mole poblano.
11.2.2. Pozole, Enchiladas, Tacos, Cochinita pibil
11.2.2.1. pozole tacos enchiladas flautas sopes
11.2.3. Enchiladas, tacos, tamales rojos. Valentina