DARING LECTURE CULTURE: PREFERENCE OF ISLAMIC EDUCATION LEARNING AT COLLEGE DURING AND POST COVID-19 OUTBREAK
by tasa febri syaputra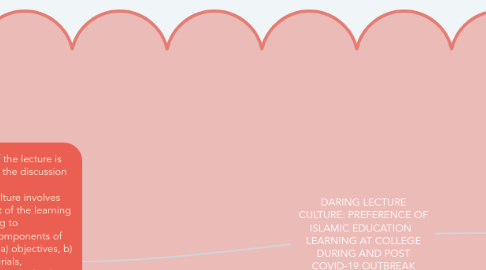 1. Coronavirus Novel Disease 2019 (COVID-19) that started in China at the end of 2019 spread very quickly in some countries. COVID-19, which caused an outbreak of acute infectious pneumonia,put hard pressure on various aspects of life, ranging from government authorities, medical and healthcare providers, and the general public. The spread of continuous and increasing COVID-19 viruses led to the Government taking policy measures for physical and social distancing with the slogan stay at home, work from home, a study from home, and worship from home.
2. In the context of education, these policy forces the educational world to change culture and learning habits that usually have to be present and be in a classroom or building room, becoming online learning/daring with its various characteristics. Educators are required to build a lecture culture-based online/daring.
3. The discussion of the lecture is closely related to the discussion on learning. To build a lecture culture involves every component of the learning system. According to Djihad Hisyam, components of learning include: a) objectives, b) materials or materials, c) strategies and methods, d) media, e) educators, f) students, g) assessment, and evaluation. Lecturers should be able to synergize the learning components well to become a quality learning system.
4. 1. Construction a Curriculum Based on ICT The curriculum is a component that must always be developed following the development of needs, science, technology, and able to answer the challenges of the Times. 9 The government through Presidential Instruction No. 6 of 2001 took steps on the implementation of ICT and its development plan in Indonesian education. The instruction was followed up in collaboration between ICT and ICT industry in education
5. 2. Learning Resource Learning resources are references, objects, and materials used in learning activities17. In the context of learning resources, daring learning based on ICT serves as one of the effective learning resources, cheap, complete, and practical. ICT is defined as a set of technology tools used to access, create, urinate, store, and manage information.
6. 3. Learning Method Methods are a way of conveying specific materials, sciences, knowledge, skills, or attitudes, so learning can effectively, and the learning objectives can be accomplished well. The utilization of daring learning can help students have an exhaustive understanding of the material, and students can improve their performance in the course with distance learning. Initially, daring/online learning was used to describe a learning system that utilizes Internet-based technology (computer-based learning/CBL).
7. 4. Learning Media Media has a strategic role in the learning process. Learning media is a tool/means that help in the process of transferring knowledge, know-how, messages, information from lecturers to students. Learning media aims to stimulate the mind, feelings, attention, interests, and attention of students in learning to be called with. In the course of ICT-based lecturers can integrate the devices or products ICT results as a means of transferring information in the course of the lecture.