THE CHANGES IN 19TH CENTURY OF THE PHILIPPINES
by Zia Akala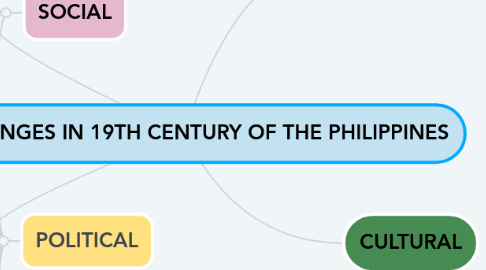 1. CULTURAL
1.1. All schools use Spanish as a medium of instruction
1.2. Although it is an Asian country, it is severely influenced by Euro-American Christianity and the Holy Trinity.
1.3. Strong Asian ancestry yet maintaining adopted Western traditions.
1.4. Extended Families
1.5. Schools weren't open for natives
1.6. Spanish,Chinese and mestizos
1.7. Principalia system
2. POLITICAL
2.1. Colonialism's Centralized Government
2.2. Officials are corrupt
2.3. Lack of stability of Colonial Administration
2.4. In the Spanish court, the Philippines had no representation.
2.5. The fight against nationalism
2.6. Liberalism vs. Conservatism
2.7. The friars dominate the government
2.8. Civil Guardia
2.9. Regionalization of regions into pueblos to create effective form of government
3. ECONOMIC
3.1. The development of industries.
3.2. Haciendas, or the "cash-crop economy," came as a result of the agricultural boom. When a large portion of land is used for cash crops, it is referred to as a cash crop.
3.3. Because of its openness to world trade and the quantity of these products in the Philippines, the Philippines became a significant exporter of these goods and became well-known throughout the world.
3.4. The transition from a barter economy to a monetary economy.
3.5. The service sector is the most important part of our economy.
3.6. Elimination of the galleon's monopoly on the market
4. SOCIAL
4.1. Massive Social Stratification gave birth to the middle class, and paved the way for economic and social development across the country.
4.1.1. New Topic
4.2. Railroads, steamships, and other modes of transportation united the Philippines' diverse regions.