Educational Narrative
by Oneida Casado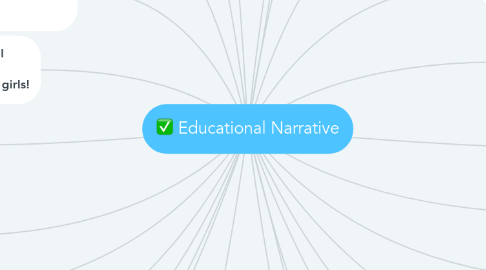 1. I was the first one in my family to go to college.
2. I was born in a small town called Bonao in the Dominican Republic.
3. Girls weren't educated much in my birth country during my grandmother's time.
4. My mom was a very good high school student but couldn't go to college because she got married young.
5. We emigrated to the United States.
6. It was difficult growing up poor, fatherless, female and immigrant in NYC in the 1970s and 80s.
7. My father was murdered in my birth country while I was still very young.
8. I was an ESL student in NYC public schools in the early 1970s.
9. I was very scared, traumatized and confused as a student during my first year of elementary school in the U.S.
10. My K2 teacher was kind, loving and very nurturing.
11. I excelled in middle school and high school!
12. My elementary education teachers made school feel fun and safe!
13. I have very fond memories of P.S. 98!
14. My college experiences opened up a whole new world to me!
15. I decided to become an early childhood educator because of my K2 teacher!
16. I love being an early childhood educator!
17. I will never forget what it felt like to be scared, little and new to this country
18. I will never forget the educators who nourished and supported me beyond academics!
19. I hope every child that comes into my classroom experiences warmth, safety and a love of learning!
20. My great grandfather was a pioneer of educational progress in my small town and a school is named after him!
21. Unfortunately he did not believe in too much education for girls.
22. My father was a very well educated man who valued education for all...including girls!
23. I taught my younger sister to read and write her name before she went to school!
24. My sister and I actually used to read for fun at home everyday!
25. Education was highly valued in my house!
26. We loved the RIF van (Reading is fundamental) which came once a month to our school and gave us free books!
27. I grew to value education in my own home
28. My daughter graduated from Harvard recently and will be going to medical school soon