ABC School District 2022-2023 English Language Arts Fifth Grade Curriculum Map
by Madison Berry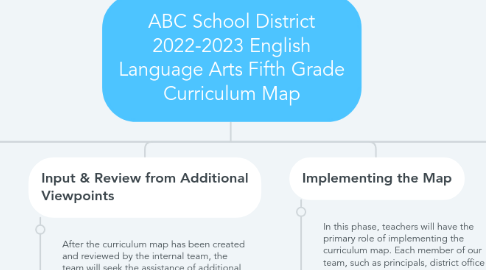 1. Planning & Establishing Purpose
1.1. The first phase of our curriculum map will be to plan and establish a purpose. Fundamentally, all team members need to understand the importance of our role as crafters of a curriculum map. Students require an education that helps them meet success in our world, and crafting a well-equipped curriculum map is central to that goal (Jacobs, 2004; Ornstein & Hunkins, 2017).
1.1.1. The members who will create the curriculum mapping team are as follows: five fifth grade English Language Arts teachers from two elementary schools, two members of the Board of Education, two principals, one assistant superintendent, two reading specialists from each of the district's elementary schools, one district data specialist, and one director of curriculum and development.
1.1.1.1. Within this phase, all individuals need to understand the benefits and purpose of curriculum mapping. Additionally, each individual will learn about their specific roles for mapping the curriculum.
2. Ongoing Routine Adjustments & Evaluations
2.1. Curriculum mapping serves many distinct purposes. One of the significant assets of curriculum mapping is it allows educators to solve problems experienced within the classroom. Collaborating offers opportunities to examine and analyze the curriculum and ensure proper alignment (Jacobs, 2010; Schutte, Line, & McCullick, 2018). Educators and the curriculum team will meet bimonthly to help ensure the effectiveness of the implemented curriculum. Meetings will take place on the second Tuesday of each month, beginning in September.
3. Implementing the Map
3.1. In this phase, teachers will have the primary role of implementing the curriculum map. Each member of our team, such as principals, district office employees, school board members, and specialists, has a responsibility to support implementation, encourage teachers, and be willing and able to answer questions and assist within their areas.
3.1.1. As implementation forges on, all involved are asked to take notes and gather data on the effectiveness of the curriculum map. According to Orstein and Hunkins (2017), evaluation should be ongoing throughout curriculum implementation.
4. Input & Review from Additional Viewpoints
4.1. After the curriculum map has been created and reviewed by the internal team, the team will seek the assistance of additional individuals. Students, teachers from fourth and sixth grade, and all fifth grade ELA teachers will be given an opportunity to review the proposed map, offering their input. Ornstein and Hunkins (2017) advocate the importance of providing students and teachers from different grade levels opportunities for curriculum input. Additionally, if all teachers will be expected to implement the curriculum map, each teacher needs to feel ownership for best success. Teachers should have a primary role within the curriculum mapping (Ornstein & Hunkins, 2017). Including more teachers within this phase will allow educators more voice, assist in teacher buy-in, and offer beneficial experiences and input for the map.
4.1.1. I, as the curriculum director, will receive and organize feedback. The original committee will meet again to discuss input and make final decisions about the curriculum map. Additionally, this will offer the team an extra opportunity to review decisions before implementation.
5. Creating the Curriculum Map
5.1. The second phase will be creating the curriculum map for fifth grade English Language Arts (ELA) at ABC School District. To begin, all of the participating individuals highlighted within phase one will examine an existing curriculum map. Individuals will be given opportunities to look at the strengths and weaknesses of the example map. Additionally, I will point out significant points of interest within the example curriculum map.
5.1.1. Next, all participants will learn about the backward-design model, which will guide our curriculum mapping. According to Ornstein and Hunkins (2017), the backward-design model is a tool that allows educators to fix their minds on the end results first. After intended student outcomes are understood, the committee can ensure there is a plan to gauge the effectiveness and plan the instructional activities that will lead to student mastery (Ornstein & Hunkins, 2017).
5.1.1.1. This process will take three days, with one day devoted to language, one day dedicated to reading, and the third day to integrate twenty-first-century skills and technology. Each team member will be divided into four groups to collaborate and plan the curriculum map for every nine weeks of instruction. Groups are highlighted within the presentation.
6. Culminating Reflection & Revisions
6.1. The team will meet in June of 2023 to reflect on implementation. Jacobs (2010) advocates the need for educators to question and analyze the curriculum. Through this process, all team members will ensure the curriculum is adjusted best to serve the students (Jacobs, 2010).
6.1.1. All fifth-grade English Language Arts teachers, students, and parents will be given an opportunity to respond to different surveys about their experiences with the curriculum map and curriculum. This information will be organized by myself and shared with the curriculum mapping team at the June 2023 meeting. The committee will analyze data and feedback as the curriculum map is further examined.
6.1.1.1. Specific questions will be discussed with the curriculum team to ensure the most optimal teaching and learning environment for all.