Saving the bees
by Jodee Matos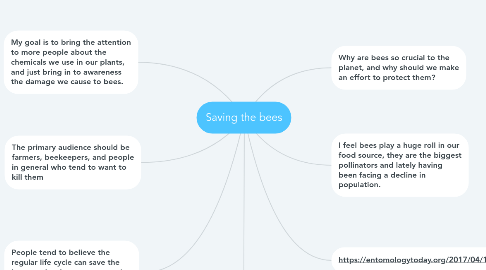 1. Why are bees so crucial to the planet, and why should we make an effort to protect them?
2. I feel bees play a huge roll in our food source, they are the biggest pollinators and lately having been facing a decline in population.
3. My goal is to bring the attention to more people about the chemicals we use in our plants, and just bring in to awareness the damage we cause to bees.
4. The primary audience should be farmers, beekeepers, and people in general who tend to want to kill them
5. People tend to believe the regular life cycle can save the bees, and us humans are causing any damage when in reality we are probably the biggest threat.
6. https://entomologytoday.org/2017/04/10/why-human-behavior-is-hurting-honey-bees/
7. Why We Should Save the Bees - Carolina Honeybees