Account Managers Procedures
by Yoshiro 2017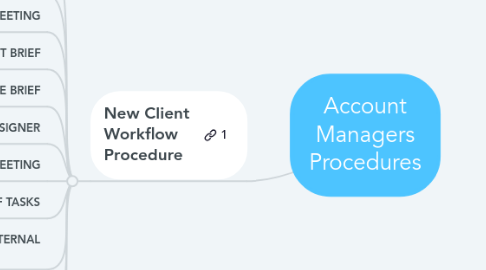 1. New Client Workflow Procedure
1.1. 1. AM ASSIGNED BY DIRECTORS
1.2. 2. ADMIN
1.2.1. OPEN JOB NUMBER (This job number should be placed in all communication including quotations.)
1.2.2. AM must create Skype thread, Asana projects (Template project), and Drive Folders.
1.2.3. AM sending Induction Email within 24 hours from signing of the agreement. (4 different for each department)
1.3. 3. KICK OFF MEETING
1.3.1. AM prepares an Agenda and sends to the client.
1.3.2. AM arrange a Kick-off meeting with the client.
1.3.3. Present to the meeting should be AM, BD (If applies), appropriate Department Manager (s), and Assigned Designer (Marketing Director and Creative Director should be present in bigger clients).
1.3.4. Clients Brief Form should be taken to kick-off meeting for guidance.
1.3.5. After the Kick-off meeting AM gathers all meeting notes from all participants.
1.4. 4. CLIENT BRIEF
1.4.1. AM prepares Clients' brief Form.
1.4.2. AM sends the Clients' brief for peer review to the participants of the Kick-off meeting and to MD for final approval (If a BD is involved Client brief is sent to them also).
1.4.3. AM sends the Client brief back to the Client for approval.
1.5. 5. CREATIVE BRIEF
1.5.1. AM upon clients' approval of the Clients Brief, AM prepares the Creative Brief Form.
1.5.2. MD & CD approves the Creative Brief and asks for more input if necessary.
1.6. 6. ASSIGN OF DESIGNER
1.6.1. AM requesting Design TM (Traffic Manager) to assign a primary and secondary designer.
1.7. 7. BRAINSTORMING MEETING
1.7.1. AM arranges a Brainstorming meeting within 48 hours of sending the creative brief to the team (with the assigned designer, Department Manager, Executives, MD, CD).
1.7.2. AM shares the approved final Creative Brief & Excel Ideas Spreadsheet with all attendees of the Brainstorming meeting 48 hours at least prior to the meeting for preparation time.
1.7.3. After the Brainstorming meeting AM revises the Creative brief with Brand Positioning and target Groups Personas if needed, deliverables & a back calendar with internal and external deadlines for MD and CD to approve.
1.8. 8. ASSIGN OF TASKS
1.8.1. After the approval of Creative Brief, AM liaises with Department Managers according to the back calendar (Need explanation) & internal deadlines and opens the tasks. The task deadlines are set based on Traffic Manager and Department Managers' deadlines.
1.9. 9.DEPARTMENTS INTERNAL PROCEDURES
1.9.1. The Departments start working on Department Internal Procedures.
1.10. 10. STATUS REPORT
1.10.1. AM is responsible to update the weekly Status reports (including retainer hours if applicable) for each client and sent every Friday to the client.
1.11. 11. QUALITY CONTROL
1.11.1. AM's job is to follow up and project manage the Department Managers daily.