COMPONENTS OF OPTICAL INSTRUMENTS
by Akash Panchal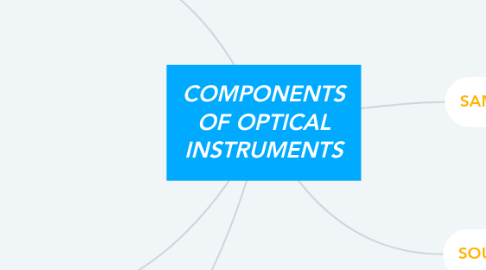 1. SAMPLE HOLDER
1.1. A Transparent container used to hold the sample
1.1.1. Cells, Cuvettes
2. WAVELENGTH SELECTOR
2.1. A device that isolates a restricted region of the EM spectrum used for measurement
2.1.1. Monochromators, prisms, & filters.
3. PHOTOELECTRIC TRANSDUCER
3.1. Converts the radiant energy into a useable signal
3.1.1. Radiant energy gets converted to usually electricity
4. SIGNAL PROCESSOR & READOUT
4.1. Displays the transduced signal on a readout device
4.1.1. Readout device like meter, digital readout, chart recorder, computer, etc. '
5. SOURCE
5.1. A stable source of radiant energy at the desired wavelength
5.1.1. Continuum-radiation of broad wavelength Line- radiation of specific wavelengths.