When You Don't Like Who You're Becoming
by Scott Kruse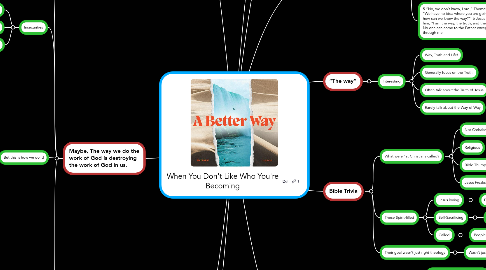 1. Rushing to become someone I don't even like!
1.1. Used enjoy life
1.1.1. Laugh
1.1.2. Care-free
1.1.3. Fun
1.1.4. Change
2. Maybe, The way we do the work of God is destroying the work of God in us.
2.1. You
2.1.1. The way you are doing life
2.1.2. Schedule
2.1.3. Pace
2.1.4. Destroying
2.2. Insecurities
2.2.1. Unresolved hurts
2.2.2. Deepest fears
2.2.3. Distracting work
2.3. But this is how we do it!
2.3.1. This the way the world works
2.3.1.1. Way to success
2.3.1.2. Way to win!
2.3.1.3. Way to get ahead!
2.3.1.4. Way to be happy!
2.3.2. Proverbs 14:12 (NLT) 12 There is a path before each person that seems right, but it ends in death.
2.4. The yoke
2.4.1. Matthew 11:28–30 (NLT) 28 Then Jesus said, "Come to me, all of you who are weary and carry heavy burdens, and I will give you rest. 29 Take my yoke upon you. Let me teach you, because I am humble and gentle at heart, and you will find rest for your souls. 30 For my yoke is easy to bear, and the burden I give you is light."
2.4.1.1. Yoke wooden crosspiece fastened over neck of 2animals &attached to a plow or a cart
2.4.1.2. Or the shall representing the Law the priests wore.
2.4.1.3. Yoke
2.4.1.4. His yoke is easy, because it was always about grace.
3. Tired of the striving.
3.1. Tired of the stress
3.1.1. Tired being miserable
3.2. Tired of being afraid
3.2.1. Tired being angry.
3.3. Tired being anxious
3.3.1. Too many probsolve
3.4. When I look at the passion to grind in myself... I find pride and striving
3.5. There is a better way
3.5.1. Not just Truth of Jesus
3.5.2. Way of Jesus
4. Treasures in Heaven
4.1. Two people
4.1.1. One lived a righteous life
4.1.2. The other lived a selfish life that hurt people
4.2. Matthew 6:19 (NLT) 19 "Don't store up treasures here on earth, where moths eat them and rust destroys them, and where thieves break in and steal.
4.2.1. The treasures you store up are the relationships you build that will still be there in 10,000 years
4.3. John 13:34 (NLT) 34 So now I am giving you a new commandment: Love each other. Just as I have loved you, you should love each other.
4.3.1. This is worth striving If we did this, other problems would fade.
4.4. John 13:35 (NLT) 35 Your love for one another will prove to the world that you are my disciples."
5. Do you ever feel like Christianity isn't working
5.1. Burned out busyness of church
5.2. Discouraged prayers don't work.
5.3. Do what right.
5.4. Everything goes wrong.
5.5. Feel Christianity is not working
6. God, why didn't you answer my prayer?
6.1. Perhaps you have said, "Either God is not there or He just doesn't care"
6.2. Christianity work?
6.2.1. Couple who loves Jesus
6.2.2. Doing everything right
6.2.3. LG, Serve
6.2.4. Loses job
6.2.5. Loses child
6.2.6. Lose their marriage
6.2.7. Where is God?
7. Just Not Happy—Just not fulfilled
7.1. Does Christianity work?
7.1.1. Gotta be a better way
7.2. John 14:1–6 (NLT): "Don't let your hearts be troubled. Trust in God, and trust also in me. 2 There is more than enough room in my Father's home. If this were not so, would I have told you that I am going to prepare a place for you?
7.3. 3 When everything is ready, I will come and get you, so that you will always be with me where I am. 4 And you know the way to where I am going."
7.4. 5 "No, we don't know, Lord," Thomas said. "We have no idea where you are going, so how can we know the way?" 6 Jesus told him, "I am the way, the truth, and the life. No one can come to the Father except through me.
8. "The way"
8.1. Interesting
8.1.1. Way, Truth and Life!
8.1.2. Generally focus on the Truth!
8.1.3. Often talk about the Truth of Jesus
8.1.4. Rarely talk about the Way of Way
9. Bible Trivia
9.1. What were 1st Christians called?
9.1.1. Not Christians
9.1.2. Religious
9.1.3. Bible Thumpers
9.1.4. Jesus Freaks.
9.2. These Spirit-filled
9.2.1. Jesus loving
9.2.1.1. Demon crushing
9.2.2. Self-Sacrificing
9.2.2.1. World Changers
9.2.3. Called
9.2.3.1. People of the Way
9.3. Their goal wasn't just right theology
9.3.1. Wasn't just strong morality
10. Goal was to live and love the way Jesus lived and loved
10.1. Think about the way Jesus lived
10.2. Compare it to how most of live
10.3. Jesus full of joy
10.3.1. Most of us are full of stress!
10.4. Jesus didn't worry
10.4.1. Some say most anxious generation in history
10.5. Jesus stopped for people
10.5.1. Ain't nobody got time for that
10.6. Consumed with ongoing fellowship with his father
10.6.1. I can't pray for 3 minutes w/o distracted phone or meal.
10.7. Imagine if Jesus were like us
10.7.1. Almost impossible!
10.7.1.1. Only had Nike instead open-toed Sandals
10.7.1.2. Scrolling Instagram
10.7.1.2.1. Why JTB more followers? He had Nikes.
10.7.1.3. Man, long week. Ready for a cold beer.
10.8. When Jesus went somewhere
10.8.1. He walked! Took his time
10.9. We are always pushing it
10.9.1. Always overwhelmed
10.9.2. Always rushed.
11. QR