Referral and Assessment for Assistive Technology
by
Taileigh Prickett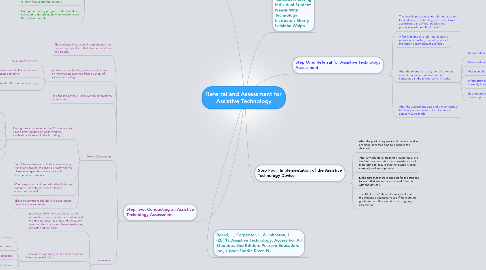 0.0
stars - reviews range from
0
to
5
Referral and Assessment for Assistive Technology
Step One: Referral for Assistive Technology Assessment
The specific procedures for referring a student for an Assistive Technology assessment vary according to the official policies and procedures of the school district
A family member, a referring agency, a physician, a teacher, or another school professional may make the referral.
After the referral is made, then all prior and current assessment data should be considered in the referral which includes:
After the assessment data and the concerns of the family are addressed, the decision to assess may be made
Step Two: Conducting an Assistive Technology Assessment
The student's instructional program must be tailored specifically to that student's abilities and needs.
An Assistive Technology assessment is based on information gathered from a variety of sources, including:
It is the job of the AT specialist to conduct the assessment
Direct Observation
Interviews
Formal Assessment
Putting It All Together
Step Three: The Individualized Education Program Team
Decisions will be based on the report given by the AT specialist and in light of other information found
Decisions including training for those who work with the student will also be determined by the AT specialist
Device Trials
Step Four: Implementation of the Assistive Technology Device
After the preliminary work and decision making are done, it comes time to purchase the device(s)
After any additional training is completed, the student may need short-term assistance and monitoring to ensure that the device is used correctly and appropriately
Make sure that there is support for the student to see if that student is a successful learner with the device(s)
The AT device(s) should be assessed while the student is assessed to see if the learning goals are met; this should be an ongoing assessment
Beard, L., Carpenter, L. & Johnston, L. (2011). Assistive Technology: Access For All Students. 2nd Edition. Pearson Education, Inc., Upper Saddle River, NJ.
Taileigh Prickett EDU620: Meeting Individual Student Needs With Technology Instructor: Sherry Leialoha-Waipa