Earth is one of several planets that orbit the Sun and that the Moon orbits Earth
by Samary Morales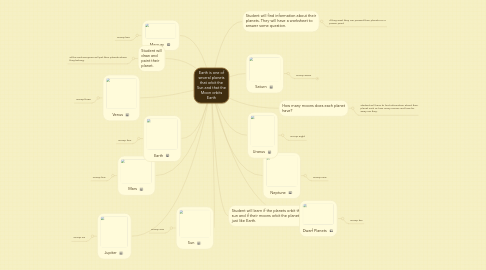 1. Student will learn if the planets orbit the sun and if their moons orbit the planets just like Earth.
2. Mars
2.1. Group five
3. Saturn
3.1. Group seven
3.1.1. Task
3.1.2. Prerequisites
4. Neptune
4.1. Group nine
5. Jupiter
5.1. Group six
6. Uranus
6.1. Group eight
7. Earth
7.1. Group four
8. Venus
8.1. Group three
9. Mercury
9.1. Group two
10. Sun
10.1. Group one
11. Dwarf Planets
11.1. Group ten
12. Student will draw and paint their planet.
12.1. at the end everyone will put their planets where they belong.
13. Student will find information about their planets. They will have a worksheet to answer some question.
13.1. if they want they can present their planets on a power point
14. How many moons does each planet have?
14.1. Student will have to find information about their planet such as how many moons and how far away are they.