Civil Contingencies act 2004
by
David McMahon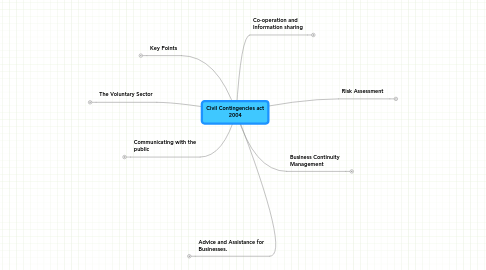 0.0
stars -
0
reviews range from
0
to
5
Civil Contingencies act 2004
Key Points
Deadly Floods at the turn of the century provoked its development, NOT 9/11
The Bill spent 10 months in Parliament
The biggest challenge the Government face is IMPLEMENTING it.
Communities are involved in the implementing process.
Co-operation and Information sharing
Co-operation is paramount for its success!
Emergency planning requires everyone to work together.
It introduces the concept of category 1 and category 2 responders.
Introduction of the Local Resilience Forum
Risk Assessment
Publication of risk assessments are necessary as it gives the public better understanding of emergency planning concepts.
This is a tried and tested methodolgy, with a key influence of the Australian Risk Management
Category 1 Responders are required to carry out Risk Assessments
This is the first part of the Civil Protection Process.
Business Continuity Management
Previous powercuts showed that they need an emergency plan for this because the town was brought to a stand-still. The biggest example being Manchester.
Emergency Services are also required to have back-up stations.
Advice and Assistance for Businesses.
Local authorities are legally obliged to provide advice, especially smaller companies.
Effective Business Continuity Management is built on "7 P's":
Big companies such as Marks and Spencer may have their own emergency slogan
This is a Multi-Agency Programme.
Communicating with the public
International and local media are key
Category 1 Responders have the duty to 'warn and inform'.
The first point of contact is at regional or local level.
BBC set up 'Connecting in a Crisis'
Environment Agency introduce a new early warning system for flooding.
The Voluntary Sector
They are becoming more important
They are always here to help.
There is an endless list of voluntary agencies. (St John Ambulance, Red Cross etc)
Category 1 Responders are required to work with voluntary agencies in planning, implementing plans etc.