BILINGUAL PROGRAMS
by Véronica Aranda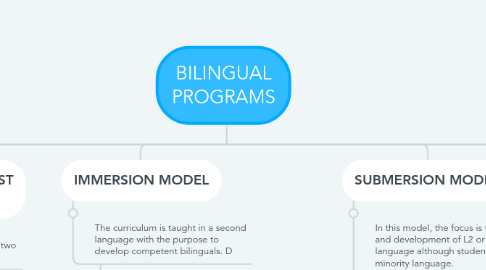 1. TRANSITIONAL BILINGUAL MODEL
1.1. Children apply L1 at the same time they are learning L2.
1.1.1. This programme let the exposition to a permanent monolingualism.
1.1.1.1. The main objective is L1 promote L2.
2. MAINTENANCE MODEL
2.1. This model develops and preserves the use of minority language, taking in account the culture character, but accomplishing the learning of second language.
2.1.1. The main objective is maintain the native minority language.
3. PRESTIGIOUS OR ELITIST MODEL
3.1. Learners acquire languages by two prestigious languages.
3.1.1. Cultural identity is not related with the language learning.
4. IMMERSION MODEL
4.1. The curriculum is taught in a second language with the purpose to develop competent bilinguals. D
4.1.1. There are three types of immersion bilingual education:
4.1.1.1. Early immersion: It occurs when the learning begin in the kindergarden stage. D
4.1.1.2. Middle immersion: It starts at primary school level
4.1.1.3. Partial immersion: A foreign language to teach is employed in a 50% and 90%.
4.1.1.4. Total immersion: The curriculum is taught completely via a foreign language.
5. SUBMERSION MODEL
5.1. In this model, the focus is the acquisition and development of L2 or majority language although students speak in a minority language.
5.1.1. The aim objective is monolingualism not bilingualism.
6. DEVELOPMENT MAINTENACE OR HERITAGE LANGUAGE EDUCATION
6.1. The instruction is carry out to the native language and the idea is preserve it but acquiring the L2 too.
6.1.1. The bilingualism is the main goal.
7. POLY-DIRECTIONAL OR TWO WAYS MODEL
7.1. Two languages are used at the tiime of instruction in classes of students with majority and monirity language.
7.1.1. The purpose of this model is develop an equivalence between two languages.
8. CLIL
8.1. Clil Is the process of teaching and learning of the curriculm content by means of other language.
8.1.1. L2 is the vehicule of learning,