Rails 4.0
by
Nik Petrachkov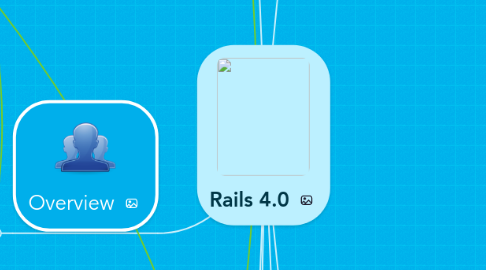 5.0
stars -
4
reviews range from
0
to
5
Rails 4.0
Overview
ActiveRecord
ActiveRecord is a Ruby library that implements the object-relational mapping (ORM) design pattern. It creates a persistable domain model from business objects and database tables, where logic and data are presented as a unified package. ActiveRecord adds inheritance and associations to the pattern above, solving two substantial limitations of that pattern. A set of macros acts as a domain language for the latter, and the SingleTableInheritance pattern is integrated for the former; thus, ActiveRecord increases the functionality of the active record pattern approach to database interaction. ActiveRecord is the default model component of the Model-view-controller web-application framework Ruby on Rails, and is also a stand-alone ORM package for other Ruby applications. In both forms, it was conceived of by David Heinemeier Hansson, and has been improved upon by a number of contributors.
PostgreSQL
Array, Rails pull request: add support for array datatype, Rails 4.0 sneak peek: PostgreSQL array support
A love affair with PostgreSQL [ Rails 4 countdown ]
MACADDR, INET, CIDR datatypes
int4range and int8range datatypes
Railscasts (pro): Hstore
Support for ranges (int4range, int8range, numrange, tsrange, tstzrange, daterange)
Concurrent indexing, Pull request, Concurrent Indexes for PostgreSQL for Rails 4 and Postgres_ext
Schema cache dump
Rails pull request: schema cache dump
Schema Cache Dump [ Rails 4 countdown ]
Rails pull request: pluck accepts multiple arguments
Accepts SQL fragments
ActiveRecord::Relation
'where.not' query method
original commit with 'where.like'
rollback of 'where.like'
Not Equal support for Active Record queries [ Rails 4 countdown ]
Bang versions of relation query methods
Commit
For internal use only
Upgrade
New deprecation policy
Turned into plugins
Hash-based finders
Dynamic finder methods, gem active_record_deprecated_finders
ActiveRecord::SessionStore, gem activerecord-session_store, ActiveRecord::SessionStore Gem extraction [ Rails 4 countdown ]
ActiveResource
ActionPack: PageCaching, gem actionpack-page_caching, Page and Action Caching Gem Extraction [Rails 4 countdown]
ActionPack: ActionCaching, gem actionpack-action_caching
Asset pipeline, gem sprockets-rails, Sprockets Rails [ Rails 4 countdown ]
rails observers, gem "rails-observers", Observers Gem Extraction [ Rails 4 countdown ]
email address obfuscation, gem actionview-encoded_mail_to
ActionDispatch XML parameters parser, gem 'actionpack-xml_parser'
Deprecations
AR::Base.scoped removed
config.whiny_nils
Eager evaluated scope, Ar.scope requires lambda
vendor/plugins (Rails::Plugin) removed
email address obfuscation removed from mail_to helper
ActiveRecord auto explain removed
Removed BestStandardsSupport middleware
has_many/has_one, :dependent => :restrict, instead use, :dependent => :restrict_with_exception, :dependent => :restrict_with_error
option ':distinct' for 'Relation#count' us deprecated, instead use, 'Relation#distinct'
update_attribute is removed, instead use, update_columns
helpers 'button_to_function' and 'link_to_function' were removed
removed ActiveRecord::Base#default_scopes?
removed 'fast_xs' support, instead use, 'String#encode(xml: :attr)`
command 'rails test' has been removed, instead use, rake test
removed public/rails.png
Deprecations (Rails 4 only)
manual upgrade of a cookie store, removed, config.encrypted_cookie_store, config.upgrade_signature_to_encryption_cookie_store
Dalli replaces memcache-client [ Rails 4 countdown ]
ActionPack
Routing concerns
gem routing_concerns
commit
Routing Concerns [ Rails 4 countdown ]
ActionController::LIve
Tenderlove: IS IT LIVE?
Live Streaming [ Rails 4 countdown ]
Rails 4 Server-Side Events with ActionController::Live and PostgreSQL NOTIFY/LISTEN
Strong parameters
RailsGuides: Ruby on Rails 4.0
Blog Ruby on Rails: Strong parameters
Upgrading to Rails 4: Parameters security tour
Pull request
Railscasts (pro)
gem strong_parameters
Strong parameters [ Rails 4 countdown ]
Rails 4 Quick Look: Strong parameters
Strong parameters in Rails 4
Turbolinks
gem turbolinks
Introducing Turbolinks for Rails 4.0 geekmonkey
Turbolinks benchmarks from Steve Klabnik
Railscasts (free)
Turbolinks [ Rails 4 countdown ]
Caching
Russian doll caching, How key-based cache expiration works, Evening on Backbone.js/ Q&A with dhh, Russian Doll Caching and Cache Digests [ Rails 4 countdown [
Declarative ETags, Generate Controller-Wide ETags [ Rails 4 countdown ], gem etagger, commit
Rake::Cache disabled by default
Cache digests, Commit, gem cache_digests, Railscasts (free)
Renaming *_filter to *_action [ Rails 4 countdown ]
New HTML5 Form Input Helpers [ Rails 4 countdown ]
Support for custom flash types
commit
Register your own flash types [ Rails 4 countdown ]
General
Railscasts (pro)
pull request
Rails 4 is thread safe by default [ Rails 4 countdown ]
PATCH verb instead of PUT
Edge rails: PATCH
Rails issue: use PATCH verb instead of PUT
HTTP PATCH Verb [ Rails 4 countdown ]
Asynchronous ActionMailer (postponed)
Rails 4.0 Sneak peek: Async ActionMailer
Rails pull request: Async actionmailer
Asynchronous Action Mailer [ Rails 4 countdown ]
Queue API (postponed)
Rails commit: queue implementation
Rails.queue [ Rails 4 countdown ]
Plataforma: barebone models to use with actionpack in rails 4.0
rails commit: add activemodel::model
rails commit: remove activemodel::model
ActiveModel::Model [ Rails 4 countdown ]
Dynamic index.html [ Rails 4 countdown ]
instructions
Absence validation
ActiveModel Absence Validator [ Rails 4 countdown ]
Pull request
config.eager_load
config.eager_load_namespaces
Security
Default headers
RoR Guides: Rails 4.0 security
Encrypted cookie store
Pull request