ADDIE Instructional Design Model
by Kanika Sharma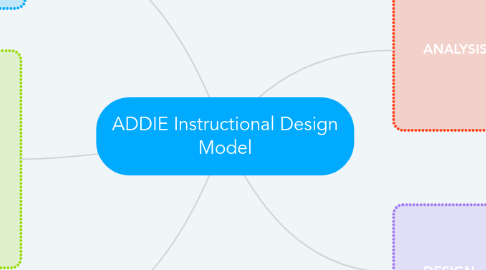 1. ANALYSIS
1.1. Analysis phase of the ADDIE model entails analysis of the target audience, learning goals, organizational or other constraints, training methodology etc.
1.1.1. ACTION STEPS: Learner analysis:Target Audience-Diploma Programme Year 1 students, Age-16 to 17 yrs, Prior Knowledge of Extended Essay: Have understanding of research and academic honesty. Have no experience in phrasing a research question and organizing an extended essay. They have no knowledge or understanding of the assessment criteria. Prior knowledge will be tested via an ungraded quiz/ questionnaire. Learning Goal: At the end of the training,the learners will be able to write a thoroughly researched 4000 words Extended Essay. Constraints- A dedicated time in the time table for fortnightly extended essay training sessions and student absenteeism. Training methodology will be face to face supplemented by electronic resources.
2. DESIGN
2.1. In the design phase, instructional objectives are articulated and decisions are made regarding instructional strategies/methodologies and assessment strategies. It is necessary to ensure alignment among the three elements in this phase.
2.1.1. Action Steps: ENABLING INSTRUCTIONAL OBJECTIVES: (a) At the end of the session students will be able to formulate a precise and focused research question. (b) At the end of the session, the students will be able to differentiate between primary and secondary research (c) At the end of the session students will be able to apply academic integrity guidelines while writing the extended essay.
2.1.2. ASSESSMENT STRATEGY: ASSESSMENT STRATEGY: Quizzes (Quiz on Essentials of a Research Question, Dos and Dont's of academic integrity) and Formulating Research questions which will be Peer assessed on the basis of a rubric.
3. DEVELOP
3.1. Development entails development of resources which includes development of content and assessments. This phase brings the design phase to life by integrating content, instructional strategies and media.
3.1.1. Action Steps 1:Development of content will include creating an ungraded quiz/questionnaire to test the prior knowledge testing of the learners about the extended essay. Action Step 2: Create learner manual with learning activities and exercises.
4. IMPLEMENTATION
4.1. This phase involves preparing the learners, the instructor and the space/environment where learning intervention/ training will be delivered.
4.1.1. Action Steps 1: Preparing the space/environment-Room with audio visual display and seating of four learners who have opted to write the extended essay in the same subject/discipline. This will facilitate collaboration and team work in instructional activities that require teamwork. Action Step 2: Preparation of Trainers who are subject matter experts and have experience in supervising the Extended Essay. They will be trained so that they have understanding of instructional objectives,activities, media content and assessments.
5. EVALUATION
5.1. This phase involves evaluation of instructional resources and success of the learning intervention. The aim is to evaluate if the instructional objectives have been met and may involve ROI.
5.1.1. Action Steps: 1. Smiley sheets to learners to evaluate their reaction to the learning intervention. 2. Learning will be evaluated by giving opportunity to the participants to train the non-participants.3. Behaviour: The learners Extended Essays(Research Question, inclusion of primary and secondary research and adherence to academic integrity) will be assessed to evaluate the extent to learners have applied what they have learnt during the training sessions.