Interactive Media
by
David Erichson1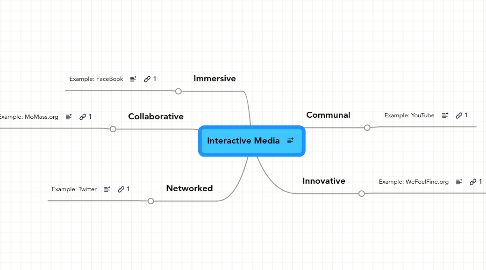 0.0
stars -
0
reviews range from
0
to
5
Interactive Media
Although they are five separate examples, as I was completing this mind map I realized that any of the examples and words could have been interchangable and still made sense.  All of the adjectives accurately describes each example.
Communal
YouTube is an example of communal interactive media.  It wouldn't exist without the contribution of the community that uploads, watches, and comments on millions of different videos.  Choose your favorite music video, movie trailer, or just a very funny video clip and you will find hundreds of comments from the community of users.  If you like the videos that someone has posted, you can even invite that user as a friend and follow up on his future content.
Immersive
Facebook is an example of immersive interactive media.  It is a social networking website that people can spend hours on, whether it is reading and posting messages, adding pictures, perfecting their profile, or updating their status.  Although it used to be solely for college students, it has since expanded its access to people of all ages, making it one of the biggest and most popular social networks on the web, which can account for its immersiveness.
Innovative
WeFeelFine.org is an example of innovatiove interactive media.  It's innovative interface allows its community of users to share their thoughts in a very creative way.  I have not seen anything else like it (although that doesn't mean theres nothing else out there).  It is both virtually and communally interactive, because of its colorful interface as well as its collection and categorization of thoughts, comments, images, and ideas.
Networked
Twitter is an example of networked interactive media.  This social networking site allows users to follow and be followed through real-time updates of status messages.  This popular site has garnered millions of users and spawned countless third-party applications called twitter tools that allows users to follow tweets on their own websites, through mail, and even have updates sent to and from their cellphones.  An example is Shaq, who is an avid user, and even recieved criticism for twittering during halftime of his NBA games.  This site allows people to be constantly networked anywhere, any time.
Collaborative
Although it hasn't fully fleshed out, I think MoMass is a good example of collaborative interactive media.  The way we envisioned it, MoMass would have involved the collaboration of users to recreate various settings of massacre and upload their content onto the website.  It would have had forums for people to collaborate on ideas and to discuss each others content as well as the events that had taken place.