READING A PAPER
by Cristiane Condé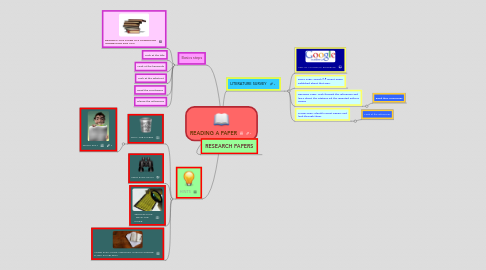 1. Basics steps
1.1. DECIDE IF THIS PAPER HAS SOMETHING INTERESTING FOR YOU
1.2. Look at the title
1.3. Look at the keywords
1.4. Look at the substract
1.5. Read the conclusions
1.6. Glance the references
2. LITERATURE SURVEY
2.1. USE AN ACADEMIC ENGEENIR
2.2. FIRST STEP: Search 3-5 recent paper published about that area.
2.3. SECOND STEP: Look through the references and learn about the citations od the repeated authors names
2.3.1. Read their summaries
2.4. THIRD STEP: Identify recent papers and look through them.
2.4.1. Look at the references
3. HINTS
3.1. TRIAL THE PAPERS
3.1.1. QUICK SKIM
3.2. FIRST PASS: SCAN
3.3. SECOND PASS: READ THE PAPER
3.4. THIRD PASS: LOOK THROUGH AND CHALLENGE EVERY STATEMENT.
4. RESEARCH PAPERS