LEARNING AND TECHNOLOGY THEORIES
by Sheila Hudson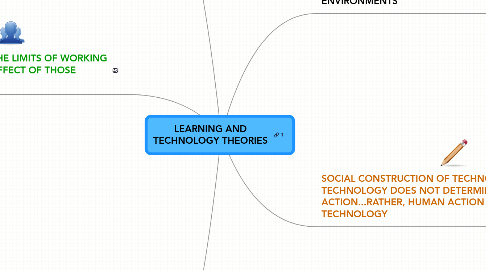 1. MEDIA ECOLOGY - THE STUDY OF COMPLEX COMMUNICATION SYSTEMS AS ENVIRONMENTS
1.1. The interactions of communications media, technology, technique, and processes with human feeling, thought, value, and behavior
1.2. A pre-paradigmatic science
1.3. Studies how our interaction with media facilitates or impedes our chances of survival
2. SOCIAL CONSTRUCTION OF TECHNOLOGY (SCOT) - TECHNOLOGY DOES NOT DETERMINE HUMAN ACTION...RATHER, HUMAN ACTION SHAPES TECHNOLOGY
2.1. Interpretative Flexibility means that each technological artifact has different meanings and interpretations for various groups
2.2. The most basic relevant groups are the users and the producers of the technological artifact, but most often many subgroups can be delineated
2.3. Design flexibility - A design is only a single point in the large field of technical possibilities, reflecting the interpretations of certain relevant groups.
2.4. Problems and Conflicts The different interpretations often give rise to conflicts between criteria that are hard to resolve technologically or conflicts between the relevant groups. Different groups in different societies construct different problems, leading to different designs.
2.5. Closure Over time, as technologies are developed, the interpretative and design flexibility collapse through closure mechanisms
2.5.1. Closure is not permanent. New social groups may form and reintroduce interpretative flexibility, causing a new round of debate or conflict about a technology
2.5.2. Redefinition of the Problem: new problem is identified, which is solved by this very design.
2.5.3. Rhetorical Closure, when social groups see the problem as being solved, the need for alternative designs diminishes
3. CONSTRUCTIVISM - ACTIVELY CONSTRUCTING UNDERSTANDING AND KNOWLEDGE BY COLLABORATING, PROBLEM SOLVING AND REFLECTION
3.1. Previous learning
3.1.1. Foundation of learning
3.1.2. Influences new knowledge
3.1.3. Learner can change their understanding to accommodate new learning.
3.2. Emphasizes authentic challenging projects
3.2.1. student
3.2.2. teacher
3.2.3. community experts
3.3. Students monitor and direct their own learning and performance
3.4. Collaborative
3.4.1. Collaborators bring own frameworks
3.4.2. Work toward shared understanding
4. COGNITIVE LOAD - THE LIMITS OF WORKING MEMORY AND THE EFFECT OF THOSE LIMITS ON LEARNING
4.1. Working Memory
4.1.1. Can only handle 7 disconnected items at once
4.1.2. Overloads when it has to process too much too fast.
4.1.3. Overloaded when its ability to build a schema is compromised
4.2. Long Term Memory is virtually unlimited and assists Working Memory.
4.2.1. Unlimited
4.2.2. Assists working memory
4.3. If Working Memory has capacity left over, it can access information from long term memory in powerful ways
4.4. Automation results from well developed Schemas
4.4.1. Well developed schemas come with repeated effort and effective practice
4.5. Implications for education
4.5.1. Chunking
4.5.2. Repetition
4.5.3. Information Landscapes
4.6. Extraneous load
4.6.1. Working memory forcedto focus away from building schemas into long term memory
4.7. Intrinsic load
4.7.1. Irreducible complexity of elements interacting in working memory.
4.8. Germane load
4.8.1. Effortful learning resulting in Schema construction and the process of automation.
5. CONNECTIVISM - THE CAPACITY TO KNOW IS MORE CRITICAL THAN WHAT IS CURRENTLY KNOWN
5.1. Integration of cognition and emotions
5.2. End goal - ability to "do something"
5.3. Learning = connecting info sources
5.4. Learning may reside in non-human appliances
5.5. Connection making > understanding 1 concept
5.6. Learning/knowledge in diversity of opinions
5.7. Courses not primary mode of learning
5.7.1. courses
5.7.2. community
5.7.3. conversations
5.7.4. internet connections
5.8. Core skill - seeing connections between fields/ideas/concepts
5.9. Personal knowledge feeds network, which feeds organizations and institutions, which in turn feeds the network which feeds the individual
5.10. Current knowledge is prime
5.11. Today's right answer now may be wrong tomorrow as information climate changes
5.12. Learning is a knowledge creation process...not only knowledge consumption