Service-Oriented Computing
by
R Vdkimmenade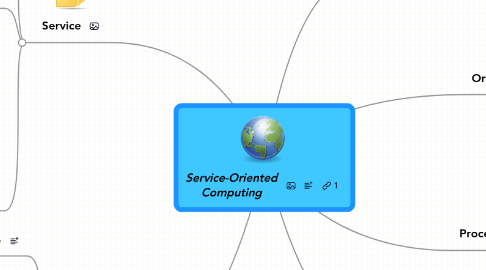 0.0
stars -
0
reviews range from
0
to
5
This is a mindmap of the Thomas Erl book: SOA Principles of Service Design.
Primaire parts
Service-Oriented Architecture
Architactural model in which Services are key.
Service-Orientation
Design paradigm comprised of design principles.
Service-Oriented Solution Logic
Application of principles to the design of solution logic.
Services
Primary mens of which solution logic is represented.
Service Compositions
Aggregate of Services.
Service Inventory
Collection of complementary Services.
Service
Service Model
Utility Services
Task Services
Entity Services
Web Service
Standards, WS-*, WS-Policy, WS-I Basic Profile, UDDI, XSD, WSDL, SOAP
Service Contract, WSDL, XSD, WS-Policy
Service Logic
Message Processing Logic
Granularity
Service Granularity
Capability Ganularity
Data Granularity
Constraint Granularity
Goals
Increased Intrinsic Interoperability
Share of data
Increased Federation
Resources and applications are united while maintaining autonomy and self-governance.
Increased Vendor Diversification Options
Be able to choose best-of-breed vendor products and technology innovations.
Increased Business and technology Domain Alignment
Increased ROI
Increased Organizational Agility
Reduced IT burden
Click on arrow to go to sub mindmap.
Origins and Influences
Object-Orientation
Web Services
BPM
EAI
AOP