Parts of Speech
by Sarah Marques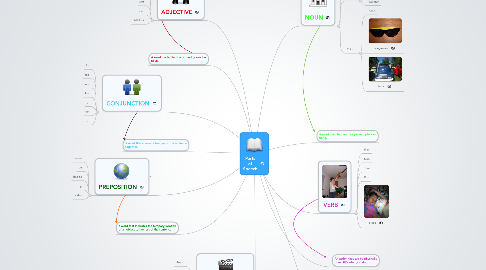 1. NOUN
1.1. Person
1.1.1. Abraham Lincoln
1.1.2. President Obama
1.1.3. baby
1.2. Place
1.2.1. Paris
1.2.2. Walmart
1.3. Thing
1.3.1. pencil
1.3.2. sunglasses
1.3.3. truck
2. VERB
2.1. Play
2.2. Skip
2.3. Jump
2.4. Run
2.5. Sleep
3. CONJUNCTION
3.1. for
3.2. and
3.3. nor
3.4. but
3.5. or
3.6. yet
3.7. so
4. INTERJECTION
4.1. Geez!
4.2. Oh no!
4.3. Hey!
5. PREPOSITION
5.1. under
5.2. on
5.3. beside
5.4. up
5.5. within
6. ADJECTIVE
6.1. Red
6.2. Quick
6.3. soft
6.4. loud
6.5. delicious
7. A word used to identify a person, place or thing.
8. An action that can be physically done. (It's what you do!)
9. A word added to a sentence to show emotion. (Ususlaly ends with an exclamation mark.)
10. A word use to decribe or modify another noun.
11. A word that connects two parts of a sentence together.
12. a word that indicates the tempory location of an object to the rest of the sentence.