London Hosts Training Week (April 2009)
by
Hub Madrid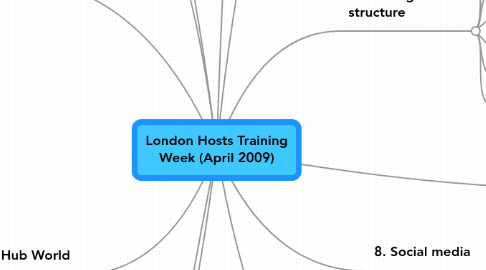 0.0
stars -
0
reviews range from
0
to
5
London Hosts Training Week (April 2009)
1. Introduction
Vision: A world where diverse people are pioneering imaginative and enterprising initiatives for a radically better world
Intent: To inspire and support people
Values: conviviality, courage, imagination
2. Experience
Ordinary (space)
People (members, hosts, stakeholders)
Extraordinary (events, rythm, suprise)
Channels/Protocols
3. Programming
Events
Mentoring
Business Clinics
Member initiatives
Living library
Rythms?
12.Hub World
5 stakeholders (20% power each, different return)
50+ people working in the world
10 hubs operating with space + 63 in 5 years
Organizational Chart
"SWOT" (Tom, Nils, Oliver, Jonathan, Manfred, Maria)
700 serious expressions of interest
10. Case study: Kings Cross
Host 1 month before starting
Every 3 people you get 20% discount
Guest membership for interns/volunteers
200 members every 6 months
3 major problems: BPlan, design project, community after the building, no consultation of host during construction
tip: make a space that can be re-created
staff of 3 1/2 people per day: 1 phone, 1 door, 1 café and 1/2 for lunch breaks
events team comes at 5pm, they work with a partner (not hosts, don´t offer the experience!)
New node
11. Hub past and future
Story
Q1: Who to work with? Who are the right people that will make it happen?
Q2: How do you measure a healthy Hub?
Q3: Where are we going to be in 5 years-time?
Q4: What are the qualities we are looking for in the founders? Mandate/Checklist
4. Technology
Mailing Lists
Jabber (chat to get support and stay connected)
Calendars
Local hub infrastructure
Contact
6. Hosting Team structure
space (supplies)
programming
attraction
ICT
services
finance
legal
5. Attraction
Who are we inspiring and supporting?
What is the right mix of people?
7. Finance
Weekly team meeting
2 cash flows
3 main areas
9. Software
8. Social media