Other Possible Ideas
by Emma Mclean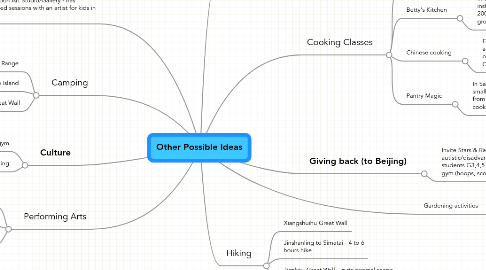 1. Gardening activities
1.1. Visit different plant markets and parks to gather design ideas, materials to plan, design and landscape an area of school during the week.
1.1.1. Botanical Gardens
1.1.1.1. Open: 7-5 Conservatory 8:30-4:30 Entrance: 2.50rmb (student) 5.00rmb (adult) Wofosi: 5.00rmb Conservatory: 40.00rmb (student) 50.00rmb (adult) Set ticket (include entrance and Conservatory): 36.00rmb per 20 students and get one free ticket for adult From Summer Palace. Continue straight onto Xiangyi Lu and drive 10 km and turn right to the parking lot. From 5th ring road. Exit at fragrant Hik; drive .8 km and turn right into parking lot
1.1.2. Flower World
1.1.2.1. Location: Between the south of the Third and Fourth ring roads, to the southeast of the Yuquanying Overpass. Admission: 48 yuan (US$5.8) To get there: Take bus number 740, 736, 603 to Caoqiao Station, or 719, 819, 381, 977, 962, 937 to Majialou; if driving, leave the Third or Fourth ring roads at the Caoqiao Exit. Contact: tel 8750 0840, fax 6752 0526
1.1.3. Plant Markets
1.1.3.1. Add details of any useful plant markets you know
2. Photography trips -
2.1. Choose a theme/idea to build an exhibit around during the week. Visit different sites around Beijing to photograph and build a museum/exhibit in school
2.2. Need more cameras!
3. One Moon Art Studio/Gallery - has organised sessions with an artist for kids in past
3.1. Ditan Park, An Ding Men Wai, Dongcheng District, Beijing 100011 Tel:86 10 6427 7748 Fax:86 10 6427 7871 Email:[email protected] Open hours:Tue to Sun 10:00 AM - 6:00 PM or by appointment
4. Cooking Classes
4.1. The Hutong
4.2. Betty's Kitchen
4.2.1. In the Kempinski area; Proper kitchen and foreigner instructors; can tailor menu to our needs; cost about 200RMB per person per session but negotiable for larger groups
4.3. Chinese cooking
4.3.1. Eugene Low has a contact with Pacific Century Mall and The 1949 Hidden City that could possibly organise different types of cooking class - Chinese/Western.
4.4. Pantry Magic
4.4.1. In Sanlitun; willing to work with groups (usually small though); instructions in English as owners are from Germany and Singapore; baking more than cooking.
5. Camping
5.1. Goose & Duck Range
5.2. Fantasy/Adventure Island
5.3. Camping on the Great Wall
6. Hiking
6.1. Xiangshuihu Great Wall
6.2. Jinshanling to Simatai - 4 to 6 hours hike
6.3. Jiankou Great Wall - in its original shape, untouched, many parts fallen over (very challenging)
7. Performing Arts
7.1. Chinese Opera School
7.2. Martial Arts
7.3. Beijing Playhouse
8. Culture
8.1. Exercise in Old People's outdoor gym
8.2. Learn street ballroom/fan dancing
9. Giving back (to Beijing)
9.1. Invite Stars & Rain or other autistic/disadvantaged students to BCIS. our students G3,4,5 can help them play games in gym (hoops, scooters, etc.).