cloud computing
by Laura Kerckhof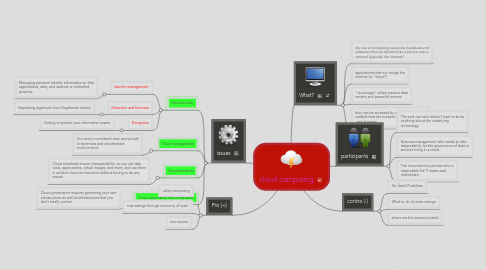 1. contra (-)
1.1. No fixed IP address
1.2. What to do if prices change
1.3. where are the servers located
2. What?
2.1. the use of computing resources (hardware and software) that are delivered as a service over a network (typically the Internet).
2.2. applications that run trough the internet (or "cloud")
2.3. "cloud apps" utilize massive data centers and powerfull servers
2.4. they can be accessed by anyone with a suitable internet connection and a standard web browser
3. participants
3.1. The end user who doesn't have to know anything about the underlying technology.
3.2. Business management who needs to take responsibility for the governance of data or services living in a cloud
3.3. The cloud service provider who is responsible for IT assets and maintenanc
4. issues
4.1. Cloud security
4.1.1. Identity management.
4.1.1.1. Managing personal identity information so that applications, data, and services is controlled properly.
4.1.2. Detection and forensics
4.1.2.1. Separating legitimate from illegitimate activity
4.1.3. Encryption
4.1.3.1. Coding to protect your information assets.
4.2. Cloud manageability
4.2.1. You need a consistent view across both on-premises and cloud-based environments
4.3. Cloud standards
4.3.1. Cloud standards ensure interoperability, so you can take tools, applications, virtual images, and more, and use them in another cloud environment without having to do any rework
4.4. Cloud governance and compliance.
4.4.1. Cloud governance requires governing your own infrastructure as well as infrastructure that you don't totally control.
5. Pro (+)
5.1. utility computing
5.2. cost savings through economy of scale
5.3. root access