Creating dream next job
by
sofia bustamante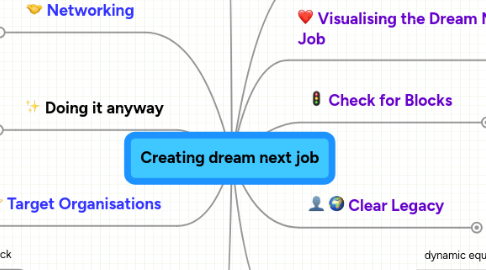 0.0
stars -
0
reviews range from
0
to
5
Creating dream next job
Check for Blocks
Negative thoughts
list them and question
Negative feelings
EFT + underline story
Bodily tension
gentle movement, allowing unconscious to express itself
Low spirit
food for the spirit + soul!!
Dream Next Job Description
1 or more is fine
take a copy everywhere
send to connections
Visualising the Dream Next Job
Left-Right Brain technique
Active Realistic Practice
Networking
Plan!
Numbers
Quality
Hot Contacts
Warm Contacts
Cold Contacts
Target Organisations
Explore
List
Check for conections
Keep building relationship
Social Networks
awareness- track
decision- commit
consistency - streamline
strong presence - brand
Clear Legacy
Enough clarity on purpose
Activate connection to purpose
Balance
dynamic equilibrium -what is it now?
Friends-Family/Health/Money/Career/Personal Growth/Physical Environment/Fun+Leisure/Significant Other
Personal Organisation
streamline
GTD
Cult of Done
Need Redundancy
Doing it anyway
art of non-attachment
demonstrate leadership
Create momentum
If you have had the idea...