Internet tools and their Applications for Teacher-librarians
by
philipwonghoofai philipwonghoofai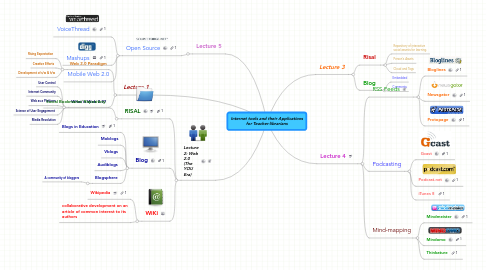 0.0
stars -
0
reviews range from
0
to
5
Internet tools and their Applications for Teacher-librarians
Lecture 3
Risal
Repository of interactive social assests for learning.
Person's Assets
Cloud and Tags
Blog
Embedded
Comments
Lecture 4
prepared by Stephanie FUNG Hiu-fai (S07FHF)
RSS Feeds
RSS stands for Really Simple Syndication, which provides an updated list of content from a site
Bloglines
Newsgator
Protopage
Podcasting
Gcast
Podcast.net
iTunes 8
Mind-mapping
Mindmeister
Mindomo
Thinkature
Lecture 2: Web 2.0 (The YOU Era)
My Experience on Web 2.0 I had tried to use e-Bay and Yahoo to sell something I did not want for several times. Although e-Bay was free, I found out that Yahoo is more successful in helping me to sell out the price and also with higher price. Maybe it is because e-Bay is more common among foreigners while Yahoo is more popular among Hong Kong people. I had also tried to search infomration using Youtube, Wikipedia and flickr. I found all these were quite helpful searching tools. I could even search some interesting cartoons to watch for relaxation. On top of these, I once developed my blog on my lovely pets in Chinese, however, I found myself not very talkative on blogs and not many people visited my blog either. So I finally stopped writing on that blog. Generally, I think Web 2.0 is highly related to my life and I like using them. Do you have any comments to me?
My Tags (Kerry Cheng LM) blog   catalogging   copyright   farming   integrated humanities   intensive farming   lesson plan   organic farming   reading   reading promotion   resources   teacher   teacher librairan   teacher librarian   teaching resources   video  
Social Bookmarks/ Repository
Blogs in Education
Moblogs
Vblogs
Audiblogs
Blogsphere, A community of bloggers
WiKi
Wikipedia
collaborative development on an article of common interest to its authors
Lecture 5
VoiceThread
Mashups
Mobile Web 2.0
Lecture 1
Web 2.0 Paradigm
Rising Expectation
Creative Efforts
Development of s/w & h/w
What is Web 2.0?
User Control
Internet Community
Web as a Platform
Science of User Engagement
Media Revolution