Michelle Obama's trip to Miami University in Ohio
by Brittany Leach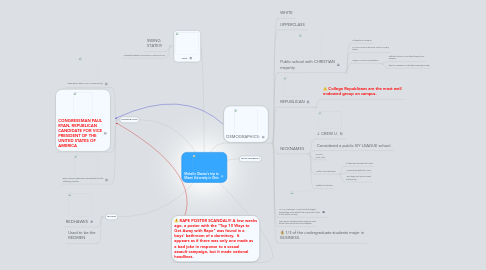 1. DEMOGRAPHICS:
1.1. WHITE
1.2. UPPERCLASS
1.3. Public school with CHRISTIAN majority.
1.3.1. 2 chapels on campus
1.3.2. CAMPUS CRUSADE FOR CHRIST is very active
1.3.3. Large CATHOLIC population
1.3.3.1. Catholic church is one block away from campus
1.3.3.2. about 9 masses on Saturday evening/Sunday
1.4. REPUBLICAN
1.4.1. College Republicans are the most well endowed group on campus.
1.5. NICKNAMES
1.5.1. J. CREW U.
1.5.2. Considered a public IVY LEAGUE school.
1.5.3. OHIO'S HARVARD
1.5.4. Mother of Fraternities
1.5.4.1. 4 fraternies founded at Miami
1.5.4.2. 1 sorority founded at Miami
1.5.4.3. Very large and active Greek Community
1.5.5. Cradle of Coaches
1.6. MIAMI MERGERS: Miami has the largest percentage of students that marry each other in the whole country.
1.7. Over 90% of students who apply to med school and law school are accepted.
1.8. 1/3 of the undergraduate students major in BUSINESS.
2. OHIO
2.1. SWING STATE!!!
2.2. Located between CINCINNATI and DAYTON
3. RAPE POSTER SCANDAL!!! A few weeks ago, a poster with the "Top 10 Ways to Get Away with Rape" was found in a boys' bathroom of a dormitory. It appears as if there was only one made as a bad joke in response to a sexual assault campaign, but it made national headlines.
4. MASCOT
4.1. REDHAWKS
4.2. Used to be the REDMEN
5. NOTABLE ALUM
5.1. PRESIDENT BENJAMIN HARRISON (R)
5.2. CONGRESSMAN PAUL RYAN, REPUBLICAN CANDIDATE FOR VICE PRESIDENT OF THE UNITED STATES OF AMERICA
5.3. BEN ROETHLISBERGER, quarterback for the Pittsburg Steelers
6. MIAMI UNIVERSITY