The Power of Social Media Marketing, Networking & Blogging!
by
Brad Andersohn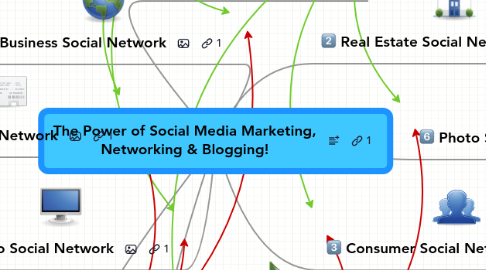 5.0
stars -
1
reviews range from
0
to
5
Social Media Marketing and Networking From Wikipedia, the free encyclopedia Jump to: navigation, search Social media is content created by people using highly accessible and scalable publishing technologies. At its most basic sense, social media is a shift in how people discover, read and share news, information and content. It's a set of technologies, tools and platforms facilitating the discovery, participation and sharing of content. It is transforming monologues (one to many) into dialogues (many to many) and the democratization of information, transforming people from content readers into publishers. Social media has become extremely popular because it allows people to connect in the online world to form relationships for personal and business.
ActiveRain: The Largest and Fastest Growing Real Estate Social Network In the World, powering Localism.com, the worlds most complete neighborpedia.  Over 150,000 members, 1.4 million Blog posts, 12,000 new posts per week, and over 2.5 million visitors each month.
LinkedIn (pronounced /ˈlɪŋkt.ˈɪn/) is a business-oriented social networking site founded in December 2002 and launched in May 2003 mainly used for professional networking. As of May 2009, it had...
Plaxo is an online address book and social networking service founded by Napster co-founder Sean Parker, Minh Nguyen and two Stanford engineering students, Todd Masonis and Cameron Ring. The...
Facebook is a free-access social networking website that is operated and privately owned by Facebook, Inc. Users can join networks organized by city, workplace, school, and region to connect and...
YouTube is a video sharing website on which users can upload and share videos, and view them in MPEG-4 format. Three former PayPal employees created YouTube in February 2005. In November 2006,...
Flickr is an image and video hosting website, web services suite, and online community platform. In addition to being a popular Web site for users to share personal photographs, the service is...
Photobucket is an image hosting, video hosting, slideshow creation and photo sharing website. It was founded in 2003 by Alex Welch and Darren Crystal and received funding from Trinity Ventures. It...
Twitter is a free social networking and micro-blogging service that enables its users to send and read other users' updates known as tweets. Tweets are text-based posts of up to 140 characters,...
Consumers Needing You, Your Services, and Your Information
A podcast is a series of digital media files, usually either digital audio or video, that is made available for download via web syndication. The syndication aspect of the delivery is what...
iTunes is a proprietary digital media player application, used for playing and organizing digital music and video files. The program is also an interface to manage the contents on Apple's popular...