What I have learnt about E-Learning
by
Sarah Mercer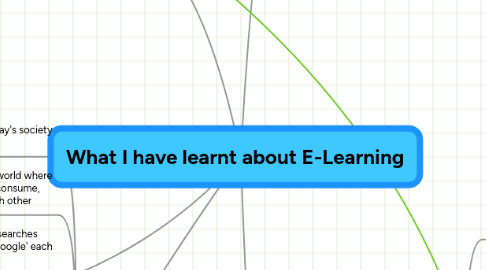 3.0
stars -
1
reviews range from
0
to
5
What I have learnt about E-Learning
Programs
Garage Band
Audacity
Interactive White Boards (IWBs)
Classroom Uses
Other Uses
IWB Benefits
IWB limitations
What is it?
Difference between Constructionism and Constructivism
How to achieve knowledge through Constructionism
Benefits
More information
Why use Technology In the classroom?
Allows the quieter and more retreated students in the class to voice their opinions and be heard
Creates interest and motivation for the students
Enhances research skills.
Helps students gain skills in technology that will help them gain a career in their future
It has endless opportunities and ease for teaching NESB students or even to teach English speaking students a new language
Allows students to work at their own pace especially when at-home tasks are set
Allows teachers to incorporate many KLAs at the one time
Allows students to gain 'student ownership' of their work as well as publish it online
Creates opportunities for both collaborative and individual learning
Can connect parents, teachers and students together to enhance communication and understanding of expectations of class learnings
Allows for much creativity and supports the idea of constructionism
Our students in today's society are digital learners
Students were born into a digital world where they expect to be able to create, consume, remix, and share material with each other
Over 2.7 billion searches performed on 'google' each month
www = whatever, whenever, and wherever
ipod + podcast = anytime learning
Today's children and teens spend 2.75 hours a week using home computers
People use computers for "richness"
"It's not attention deficit, I'm just not listening"
On average, students get to ask a question only once every 10 hours
Why not use the technology that students love to create/reach/engage/teach more effectively?
When you lose your mobile you lose part of your brain.
Mbile phones have become and interestingly enabling tool. Invented to connect us all together, it has become something much more
There are nearly 90,000,000 ipods out there - why not use them to teach?