Type your name and date here General Chemistry, CH101-01 Neutralization Titration
by
Lisa Price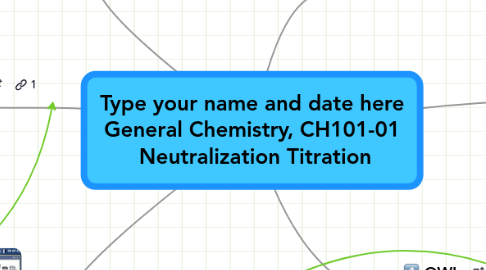 0.0
stars -
0
reviews range from
0
to
5
Type your name and date here General Chemistry, CH101-01 Neutralization Titration
Laboratory
Click on the arrow icon to enter the laboratory. Here you will carry out a neutralization titration as you would if you were a research scientist in industry, academia, or a government facility.
START
Instructions: Place your cursor over the 3-lined icon in this box to begin
Be sure to type your name and date in the central box. Follow the arrows and read the note in each branch. Complete work in each branch before proceeding to the next. This activity is due Monday, June 15, 2009 by 9am.  Refer to your syllabus for information regarding late submissions. If you need help to navigate this activity, contact me immediately via moodle email.
Reading
Study the readings in your text or etext before going to the practice exercises in OWL. Chemistry: Principles and Reactions, 6th Edition by Masterton and Hurley.    
Acid-Base Reactions: Chapter 4, Section 3, Pages 81-86.
Click on the arrow icon to log in to your OWL account.  Master all three assignments before attempting the laboratory.
Active Figure: Titration 4.3d
Tutor: Titration 4.3g
Homework: Titration Calculations 4.3j
This activity is worth a total of 100 points: lab (50), OWL (30), and application (20). Click on the arrow icon to see the grading rubric for the laboratory.  Breakdown points and criteria are: Format (3); Title (1); Introduction (2); Procedure (10); Data (8); Calculations (6); Questions (5); Conclusion (15); Total = 50 points. OWL is worth 30 points total; 10 points for each section mastered. Practical applications are worth 20 points total; 10 points for each complete slide.
Publish and submit your work
Click on "Share Map" at the bottom left corner, then click "Publish".  Check the box "This is a public map".  Click "Copy" across from the direct link.  Paste the direct link into moodle email to the instructor.  Write "Titration Activity" in the subject line.   Your grade will be posted in Moodle by Monday, June 22 at 5pm.  Please refer to your syllabus for directions on how to access your grades in Moodle.
Practical application
Investigate the literature to discover two ways a neutralization titration is used in real-life.  Create a 2-page slide show; one page for each practical application.  Include a brief explanation and an illustration for each application.