Databases
by
Corina Paraschiv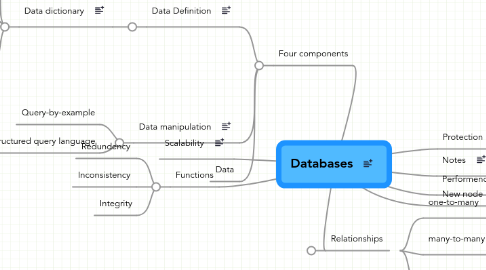 0.0
stars -
0
reviews range from
0
to
5
Databases
Best definition : stores both data + relationships between the data.   Provides a query language : series of non-programming-level commands for non-technical users to generate reports and retrieve information.
Notes
Physical view : how information is physically stored on your hardrive. Logical view : how they access information (english language)
Scalability
Is it modular? Can it be adapted to increasing demands?
Performence
How quickly can you erfom a certain transaction?
Functions
Redundency
Inconsistency
Integrity
Protection
Security
Passwords, Access levels.  Certain ppl can accesscertain things. Access control. Read-only for ex.
New node
Four components
Data Definition
creates, maintains the data dictionary and the structure of the database.
Data manipulation
Allows to create, update, read and delete information in a database.
Data
Relationships
one-to-many
relationship : 1 customer can have many orders, but one order belongs only to one customer.
many-to-many
students and classes many students can have one class and many classes can have students
one-to-one
mayor-city for ex. married to one -- recursive relationship.