Make the Most of the New MindMeister
by Suhaimi Rahman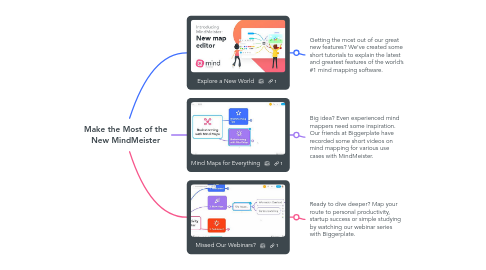 1. Explore a New World
1.1. Getting the most out of our great new features? We've created some short tutorials to explain the latest and greatest features of the world's #1 mind mapping software.
2. Mind Maps for Everything
2.1. Big idea? Even experienced mind mappers need some inspiration. Our friends at Biggerplate have recorded some short videos on mind mapping for various use cases with MindMeister.
3. Missed Our Webinars?
3.1. Ready to dive deeper? Map your route to personal productivity, startup success or simple studying by watching our webinar series with Biggerplate.