5th Grade Social Studies 5.2 Students trace the routes of early explorers and describe the early explorations of the Americas.
by Christine P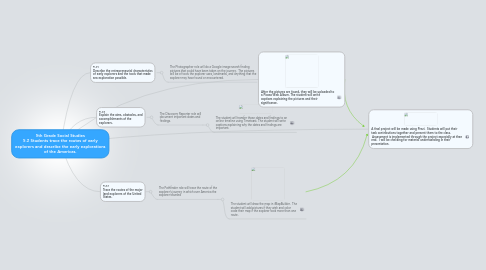 1. After the pictures are found, they will be uploaded to a Picasa Web Album. The student will write captions explaining the pictures and their significance.
2. 5.21 Describe the entrepreneurial characteristics of early explorers and the tools that made sea exploration possible.
2.1. The Photographer role will do a Google image search finding pictures that could have been taken on the journey. The pictures will be of tools the explorer uses, landmarks, and anything that the explorer may have found or encountered.
3. 5.22 Explain the aims, obstacles, and accomplishments of the explorers.
3.1. The Discovery Reporter role will document important dates and findings.
3.1.1. The student will transfer those dates and findings to an online timeline using Timetoast. The student will write captions explaining why the dates and findings are important.
4. 5.23 Trace the routes of the major land explorers of the United States.
4.1. The Pathfinder role will trace the route of the explorer's journey in which ever America the explorer traveled
4.1.1. The student will draw the map in iMapBuilder. The student will add pictures if they wish and color code their map if the explorer took more than one route.
5. A final project will be made using Prezi. Students will put their task contributions together and present them to the class. Assessment is implemented through the project especially at then end. I will be checking for material understanding in their presentation.