My Media Consumption
by Tara Namiq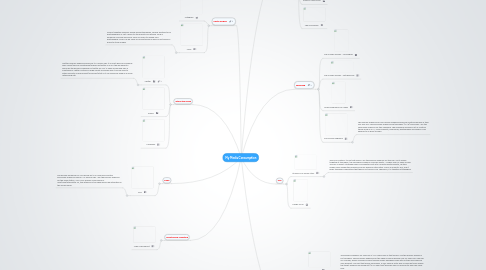 1. Music
1.1. Bon Iver
1.2. The XX
1.3. Crystal Castles
1.4. Angus & Julia Stone
1.5. The Maccabees
2. Interactive Media
2.1. Twitter
2.1.1. Twitters primary audience would be 15-25 year olds. It is most likely for someone who carries/owns a smartphone/android as twitter is an on-the-go website. I would be the primary audience for twitter as I am 15 years of age and own a smartphone. Twitter contains a huge variety of people and it can be used to either promote a new product/musician/artist or it can simply be used as a social networking site.
2.2. Tumblr
2.3. Facebook
3. Radio
3.1. XFM
3.1.1. The primary audience for XFM would be 15-24 year olds and the secondary audience may be 24-35 year olds. I am the primary audience for the radio station, XFM. XFM primary music genre is rock/indie/alternative. So, the listeners of the show would be interested in this music genre.
4. T.V
4.1. New Girl
4.1.1. The primary audience for New Girl is 15-24 year olds so that means I am the primary audience for this show. The secondary audience for this show could be people over 24 years old. New Girl is a comedy, where a primary school teacher Zooey Deschanel lives with 3 other guys who are very different. The fact that Zooey Deschanel, a very famous actor who is loved by teens makes the target audience young adults (15-24 year olds) because she is a loved actor who has many fans.
4.2. Suburgatory
4.3. Hollyoaks
4.4. How I Met Your Mother
4.5. Made In Chelsea
4.5.1. The primary audience for Made In Chelsea are females at the age of 18-24. The secondary audience would be young females (15-17). I am the secondary audience for this show. Made In Chelsea is based in Chelsea, within the show there are people who live the Chelsea life: dinner parties, designer clothes etc. Made In Chelsea is half scripted.
5. Advertising & Marketing
5.1. John Lewis advert
6. Photo Imaging
6.1. Instagram
6.2. Flickr
6.2.1. Flickr's targeted audience would be photographers, people wanting to be photographers or just a place to store photos for people. Flickr's audience could be anyone as flickr is a place to upload your photography. Flickr can be a way of promoting your work or just simply a place to store images.
7. Publishing
7.1. The Hunger Games - Mockingjay
7.2. The Hunger Games - Catching Fire
7.3. Linda Goodmans Sun Signs
7.4. Oh Comely Magazine
7.4.1. The primary audience for Oh Comely magazine would be creative females in their 20s and 30s. The secondary audience are teenagers (15-19) and males. I am the secondary audience for this magazine. The magazine includes a lot of creative things such as D.I.Y, music playlists, new bands, photography and fashion. This appeals to all kinds of ages.
8. Film
8.1. Its Kind Of A Funny Story
8.1.1. This film is rated a 12a so that means I am the primary audience for this film. As its mainly targeted at teenagers, the secondary audience could be adults - roughly over 25 years of age. The film is about a teenager who is accidentally put into a mental health hospital, he then makes some supporting friends and a girl which he later dates. This is a romantic film, and it helps teenagers understand that they're not alone in life. Therefore, it is targeted at teenagers.
8.2. Lullaby For Pi