WHY SHOULD YOU DONATE TO THE UNITED WAY?
by Google User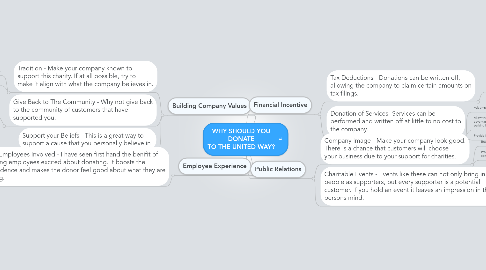 1. Financial Incentive
1.1. Tax Deductions - Donations can be written off, allowing the company to claim certain amounts on tax filings.
1.1.1. Tax deductions are a great way of reducing overhead costs
1.2. Donation of Services- Services can be performed and written off at little to no cost to the company.
1.2.1. Ask employees to donate their time
1.2.2. Allow the charity to take advantatage of your retail space or parking lot
1.2.3. Provide Refreshments to cater the event
2. Public Relations
2.1. Company Image - Make your company look good. There is a chance that customers will choose your business due to your support for charities.
2.1.1. Brag, but do it nobley
2.1.2. Procalaim yourself as a community outreach company.
2.2. Charitable Events - Events like these can not only bring in people as supporters, but every supporter is a potential customer. If you hold an event it leaves an impression in that persons mind.
2.2.1. Run games that get people involved
2.2.2. Let people know what you are supporting
3. Building Company Values
3.1. Tradition - Make your company known to support this charity. If at all possible, try to make it align with what the company believes in.
3.1.1. Make it a yearly contribution
3.1.2. Designate your company as a sponsor
3.2. Give Back to The Community - Why not give back to the community of customers that have supported you.
3.2.1. Support a cause that has a lasting impact on the community
3.3. Support your Beliefs - This is a great way to support a cause that you personally believe in.
4. Employee Experience
4.1. Get Employees Involved - I have seen first hand the benifit of getting employees excited about donating. It boosts the confidence and makes the donor feel good about what they are doing.
4.1.1. Hold Giveaways that encourage employees to donate (i.e. raffles)
4.1.2. Let employees know that they may be able to donate services instead of money.
4.1.3. Instead of a lump sum, offer a payroll deduction