Augmentative and Alternative Communication and Complex Communication Needs
by Nawal Javaid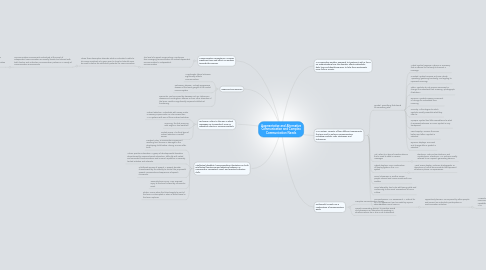 1. AAC-Describes another approach to treatment, with a focus on understanding how the disorder affects individuals' daily lives and identifying ways to help them participate more fully in society.
2. Multimodal- People use a combination of communication goals.
2.1. Complex Communication Needs
2.2. Speech Generating Device- to produce words and phrases as an alternative to speaking in situations where he or she is not understood.
3. AAC system- consists of four different components that are used to enhance communication including symbols, aids, strategies, and techniques
3.1. Symbol- something that stands for something else
3.1.1. Aided- symbol requires a device or accessory that is external to the body to transmit a message
3.1.2. Unaided- symbols require only one's body "speaking, gesturing,vocalizing, and signing to represent meaning"
3.1.3. Static- symbols do not require movement or change to understand their meaning "photograph, illustration"
3.1.4. Dynamic- symbols require movement or change to understand their meaning
3.1.5. Iconicity- is the degree to which symbols visually resemble what they refer to.
3.1.6. Opaque- symbol has little resemblance to what it represents whereas an iconic symbol is very transparent
3.1.7. Fixed Display- remains the same before and after a symbol is selected
3.1.8. Dynamic displays- are visual and change after a symbol is selected
3.2. Aid- refers to a type of assistive device that is used to send or receive messages
3.2.1. Electronic- aids can be electronic and nonelectronic .Electronic AAC aids are usually referred to as a speech generating devices
3.3. Hybrid displays- use a combination of display types on the AAC system
3.3.1. Visual scene display- pictures, photographs, or depictions of virtual environments that represent situations, places, or experiences.
3.4. Social Closeness- is another reason people interact and communicate with one another
3.5. Social etiquette- has to do with being polite and conforming to the social conventions of one's culture.
3.6. Comprehensive AAC assessment- A referral for an AAC assessment can be made by anyone who identifies unmet commu
3.6.1. Opportunity barriers- are imposed by other people and prevent an individual's participation in communication activities.
3.6.1.1. Access barriers- can also prevent participation in communication activities, but they stem from the capabilities, attitudes, and resources of the person using AAC
4. Technique- refers to the way in which messages are transmitted. How an individual selects or accesses symbols.
4.1. Indirect selection- Individuals with severe motor or sensory impairments can also access their AAC systems with one of three indirect selection
4.2. Scanning- the first scanning with single or dual switches
4.3. Coded access- The third type of indirect selection is coded access
5. Intellectual disability- having significant limitations in both intellectual functioning and adaptive behavior, as expressed in conceptual, social, and practical adaptive skills.
5.1. Cerebral Palsy- a neuromotor impairment resulting from trauma or damage to the developing child before, during, or soon after birth.
5.2. Autism spectrum disorders- a group of developmental disorders characterized by impaired social interaction, difficulty with verbal and nonverbal communications and unusual, repetitive, or severely limited activities and interests.
5.3. Childhood apraxia of Speech- a speech disorder characterized by the inability to control the purposeful speech movements and sequences of speech movemnts.
5.4. Traumatic brain injury- is an acquired injury to the brain caused by a traumatic event
5.5. Stroke- occurs when the blood supply to part of the brain is interrupted or when a blood vessel in the brain ruptures.
6. Degenerative Diseases
6.1. Amyotrophic lateral sclerosis- significantly affects communication
6.2. Parkinson's disease- a slowly progressive disease of the basal ganglia in the central nervous system
6.3. Dementia- can be caused by diseases such as Alzheimer's disease and Huntington's disease or from other disorders of the brain, results in significantly impaired intellectual functioning.
7. Communication competence- requires significant time and effort on working towards this process
7.1. The level of support ranges along a continuum from emerging communication to context-dependent communication to independent communication
7.1.1. These three descriptors describe what an individual is able to do communicatively at a given point in time but should never be used to define an individual's potential for communication.
7.1.1.1. Communication environments-Individuals at the point of independent communication are usually literate and interact with both familiar and unfamiliar communication partners in a variety of communication environments
7.1.1.1.1. Any barrier to effective communication must be addressed in treatment to allow complete participation in all desired social and communication roles.