MODEL FOR TECHNOLOGY UNIT-BASED DEVELOPMENT
by Mike King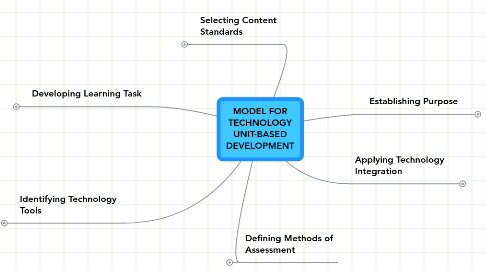 1. Selecting Content Standards
1.1. A content standard is an ability or skill that students can demonstrate, usually in a variety of ways.
2. Establishing Purpose
2.1. Students need to know the rationale for learning, and teachers should take the time to explain it.
3. Applying Technology Integration
3.1. During this phase, the unit developers will identify the technology methods and resources they will use to support the instructional unit.
4. Identifying Technology Tools
4.1. Identifying the types of technology tools the teacher will use to deliver the unit allows the developer to analyze the different technology capabilities.
5. Defining Methods of Assessment
5.1. decide what student learning skills will be measured.
6. Developing Learning Task
6.1. A good task is authentic and requires the student to perform in a real-life context.