Critical analysis of Macbeth, giving detailed reference to character, language and plot
by
Holly Young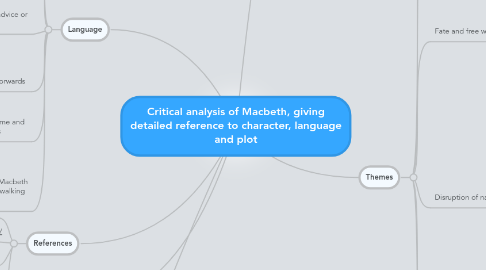 0.0
stars - reviews range from
0
to
5
Critical analysis of Macbeth, giving detailed reference to character, language and plot
Contrast
There are contrasts evident throughout Macbeth
Themes
Ambition
Masculinity
Fate and free will
Disruption of nature
Nature of the ideal King
Discussed in the first act
Language
The fact that both Macbeth and Lady Macbeth frequently invoke darkness, always linked to the forces of evil and disorder, prepares the audience for the disorder to come: "Stars, hide your fires"; "Come thick night" etc. Darkness allows evil to flourish.
Treating the play as a dramatic poem, we need to look at how words are affected by rythym. The plot, character and recurrent themes all work together to determine the readers reaction at any one point.
Rhyming couplets often used in self-righteous passages that give advice or point to a moral
references backwardsa and forwards
Shakespeare uses rhyme and meter for two reasons
tension of the language used by Lady Macbeth during her famous sleepwalking scene (V,i)
To achieve a level 3 must demonstrate knowledge of
how language, style and structure is used to convey meaning
Knights (1979)
Believes that there is too much importance given to analysing the characters and plot in Macbeth. That it is a dramatic poem that should be experienced as a whole, to see Shakespeare plays as an extended metaphor, with 'characters' being poetic symbols, not humans.
References
http://www.cliffsnotes.com/study_guide/literature/macbeth/critical-essays/major-themes.html
http://www.bbc.co.uk/bitesize/higher/english/macbeth/themes/revision/2/
http://www.rsc.org.uk/explore/macbeth/teachers-resources/themes.aspx
http://www.us.penguingroup.com/static/pdf/teachersguides/macbeth.pdf