Global Brainstorm 2012
by
Celia Gates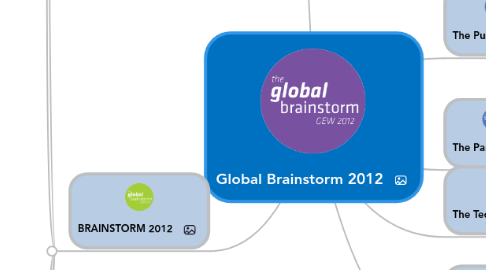 0.0
stars - reviews range from
0
to
5
Global Brainstorm 2012
The Purpose
"What do Entrepreneurs #Need2Know To Succeed?
Reveal Inherent Fears
Fear of the unknown
Fear of failure
Fear of success
Generate New Ideas
A social experiment
An iterative process
The Pannel
Host
Celia Gates, Founder of the Global Brainstorm, Author From Brainwave To Business, Creator of the Whether Forecast™
Brainstormers
Tony Fish, Founder Innovation Warehouse
Brigitte Summer, Executive Coach
Kane Kramer, Chairman British Inventors Society, Inventor of Digital Audio Player
Marc Ortmans, Founder IdeaSpace Global
Gemma Thompson, Social Media Illumination
Liam Hughes, Founder BiggerPlate.com
Andrew Wilcox, Mind Mapper, Cadre Consulting
Martin Hayler, Physical trainer, Participant in one of Celia's courses
Malcolm Cook, Media Student, Participant in one of Celia's courses
Guest Interviews
Edward de Bono, Founder of Lateral Thinking, 6 Think Hats Tool
BRAINSTORM 2012
Lay of the Land
Over the centuries little attention has been paid to thinking, Greek Gang of 3, Plato, Aristotle, Socrates, 2 dimentional approach, Black and white, Pros and cons, Cave Man Thinking, What is this?, The Church, by means of obtaining the truth, Logical Thinking, Taught in Schools, Routeen approach, Ecellent but not good enough
Types of Thinking, Lateral Thinking, Understanding the logical thread of thought, Moving across these, Parallel thinking, Approaching a situation from the same perspective at the same time, 6 Thinking Hats Parallel Thinking Tool, Edward de Bono, Whether Forecast™ Parallel Thinking Tool, Celia Gates, Critical Thinking, Limiting, Judgemental, Negative, Creative Thinking, the creation of value, Thinking skills can be taught, willingness to accept ideas, willingness to obtain movement from them, Decisions, Pros and Cons, Quadratic Approach, Edward de Bono's 6 Thinking Hats, Celia Gates' Whether Forecast, Procrastination, Indecision, costs more than recovering from the wrong decision, waste time worrying, consume resources without learning anything new, Holistic Thinking, Embracing critical and creative thinking skills simultaneously, stimulating sparks of genius, collaborative communication from a parallel approach, Whether Forecast, Intuitive and easy, Time saving, 45 mins in the hour, Innovation generating
Mind Maps, Benefits of Mindmaps, Management, people, projects, Visual dashboard, creating visions, analysing disasters, see big picture easily, drill down details, All 500 of Fortune 500 Companies use mindmaps, How to draw a mind map, start with specific subject in mind, build out the relevance with seperate branches and headings, Slow thoughts down to the point where we can hear them.
The Collective Concious - Bringining Minds Together, Inquisitive People, Been thinking this way since childhood
Inherent fears, Be honest with yourself, What's blocking you?, "I don't know where I'm going", Will my idea work, What happens when it goes wrong...
What do Entrepreneurs need to know in order to succeed?, From people who have been there before..., What are some of the challenges they are likely to face, How to overcome such challenges, How to generate ideas, How to make these happen, Decisions define destiny
Innovation Warehouse, A place to call home, A place to grow, Innovative Companies, Funding, Ways to grow, Structured support
Social Media Illumination, Figure out strategy, Facebook, Twitter, LinkedIN etc, Find Clients
IdeaspaceGlobal, Global Entrepreneurship Week, 130 Countries around the world, Knowledge base, workspace, From inspiration to aspiration, Easier, More successful journey, World recession, New Entrepreneurs needed, Critical to building economy, Good news, Understanding how to recognize risks, Getting better at offering genuine support, Education and sharing of knowledge
BiggerPlate.com, Mindmapping content and community, Free resource - shared information, Entrepreneurial Community, Tools to drive innovation
Turn around Coaching and Consultancy, Build a business and keep your life, Often its one or the other, Aligning actions with real vision for the future
British Inventors Society, British Invention Show, British Invention of the Year Awards, The importance of experimentation, Innovation and Technology drives progress, underpins quality of lifestyle
Kauffmann Foundation, How do we stimulate more start-up communities?, Policy, Guidance, Field exploded, Evidence based information, Guide more effectively, Measure what works, A lot of experiementation, First do no harm, Global Brainstorm, Too much attention has been given to the importance of capital, Need less now to start-up, seen as a badge of honour to the entrepreneur, need to get smarter about the money game, bootstrap for longer, BOOK: The Lean Start-up, Creation of the firm is a slow iterative process, Not stop/start, Less about mechanical parts, Business plans, Incorporation, A question of figuring out the formula that works, More about the essence of the idea, How do I start solving a problem..., "Building airplanes in flight", demonstrate the quality of the idea, Its a team sport, Create the right environment, Make it easy for people to collaborate, Do entrepreneurs create venture capitalists or do V.C's create entrepreneurs?
Challenges to the Entrepreneur, not necessarilly made a success yet..., right attitude required, Not knowing what to do next, Not knowing how to do it, Very rarely lack big picture vision, Fear of the unknown, outside their existing expertise, Not Knowing the market, Overcome this by finding people who do know, outside of their understanding, each step offers more unknowns..., "Blindfolded in a tunnel in the dark", vulnerable to "sharks", lured into "dodgey" invention promotion partnership - realize mistake at £16k, vulnerable to loss of ideas, Accept bad advice, Social Media could be an example, Fear of failure, Fear of success, "If I'm too successful I'll never see my family", Can cripple female entrepreneurs, Fear itself!, Lack of contacts, Social Media great to overcome this, LinkedIN, Use testimonials, Review sites, Use resource to build testimonials, Lack of credibility, The architect, set the vision, the builder, set the action to make it happen, Focus on end goal and vision, Fundamental Business Skills, Managing Cash flow, Strategic Growth Management, Often doing it alone, "Life is a process of Iteration", There is no "failure", People who get it wrong have not failed, People who give up too early fail, From learning comes growth, Evolution, Move from Biology to Technology, Humans are not evolving to have extra thumbs..., We evolve at a slower rate to technology, Technology is evolving at a different speed., You must follow YOUR journey, Protecting Intellectual Property whilst building a community, Non-disclosure agreement, Still can't talk to too many people, Find inventor Clubs/ Trusting Communities, Your community can improve your idea for you, Talk to them about the problem that their idea solves, Apply for a patent or design rights, Protect your idea, Sometimes its very pertanent to protect with a patent., 1 example is responsible for $1 billion turnover in Malaysia - Patent was essential., Maerogel, Rice Husk Silica, Nasa Aerogel, Sand SIlica, Kane's own designs copies, Other examples copied, Sometimes there is every reason to patent, Digital Audio Player, Fastest selling piece of electrical equipement, Untitled, Technology with worldwide potential, People could steal your idea BUT because they're NOT on the same journey as you it doesn't really matter., Share with as many people as you can, Allow the interaction to develop your ideas, e.g. of fashion desinger flattered by someone "stealing" his idea - T-shirt business, Danger of paranoia about not sharing, People can overrate their own ideas, Tell others and it makes it better, Take a leap of faith, Patents and IP becoming a little old fashioned, No one can steal your vision., Social Media, Sharing, Twitter all about sharing, 10 x per day, Facebook, 3 x per day, Mind maps BiggerPlate.com, Slow growth, Pulling teeth getting people to upload content, Iterative process, Tipping point with people's willingness to share content, Marketing - social networks, Twitter, Facebook, LinkedIN, Connecting with like minds, Meet people with similar interests
Global Entrepreneurship Week, 131 Countries, Success Stories in Supporting
Movember, Raising Awareness of Prostate Cancer, Grow a moustache for the month of November
Sunshine
Imagine a day when it feels as if everything is going your way, Positive, Energetic, Full of vitality
Generally Happy, Safe, Self-sufficient, Providing for family, Somewhere nice to run, No financial worries
Optimism, Beleif in the idea, excited to make it happen, Blind Optimism, Ignorance is bliss, Beleif that its possible, Change the world in a small or large way
Social, What you can bring to others, How you may connect to other people, Significance in a wider world
Connection, coming together to share ideas, transfer knowledge, blend vision
Vision, Big vision, never a problem for the entrepreneur, often lack short term vision, Know about the mansions and million dollars, don't know whether to turn right or left out of front door, Need strategic short term goals, clarify ideas in the near future, taking small baby steps to achieve goals, celebrating small achievements
Redefining failure, whilst learning, sharing, growing, contributing... NOT failing
Momentum, THings are evolving, growing, moving in the right direction, Making progress, Extra energy, Constant Action
Confidence, Keen to take on a new idea, Able to conquer a challenge, Knowing on the right track at the right time
There can be clouds that come across a sunny day, The discovery of what's behind a cloud that changes that beleif, The removal of that cloud
Winds
Metaphorically representing all external influences that exist outside of your control, You can't see the wind, You see its affects, You can't control the wind, You can only harness it to your advantage
Local Winds, Friends & family, Look at home for your inspiration, Ancestors, Collagues and Peers, Like minded local communities, On line, Off line, British Invention Show... Celia's story, Mentors within reach, Much more accessible, People have a willingness to help, People have a willingness to share ideas, Engage with brains that are greater than your own, Free advisors, More than one community/network, Go to Physical events, Go to Online events, Events NOT relevant to you, Learn from other aspects, Transfer to other areas, Find the stories that support you, Inspiration, Understanding, Energy, Like minded hobbies, Skiing, Cinema, Kite surfing, WIND, Gives wind a whole other meaning, Use peer pressure for focus and motivation, Public deadlines, Shared targets, Build your own community, What do they want?, How may they support you?, Raving fans, Profitable Pioneers, Who are you surrounding yourself with?, Are they telling you you're crazy?, Surround yourself with your raving fans
Prevailing Winds, Global Entrepreneurship Week, Meet like-minded people, Join a community, Take part in an activity, Stop feeling alone, Learn from others, Rough and the smooth, Share stories, transfer knowledge, Restore faith and belief, Global Economic Climate, The Global Brainstorm, Governement, Policy makers, Society, Media
Winds outside of your control, Tax, Create an environement that stimulates investment
Hurricans and Torrnadoes DO hit, how can we batton down the hatches?, Is this wind too strong for us to whether?, Prepare by predicting patterns
How can the winds be used as a catalyst to change?, 7 Steps to Successful Change Management, WHETHER FORECAST BOOK EXTRACT, Reveal Root cause, Generate simple solutions, Create Collective Value Driven Vision, Promote Profitable Pioneers, Disclose broader Mission, Commit to your cause, Hold up Success for applause, Winds Change... do you?
Rainbow
stretch your imagination, What would you do if you were sitting on a rainbow, If you had superhero powers what would these be and what would you do
Challenge reality, There is probably more than one reality, Personal realities, Remove all elements of fear, Storm right in - do it anyway, New technology people don't understand, Other's think you're crazy..., Kane's example of recreating the music industry, The rules are the ones you make as you go along, "I didn't know I couldn't do it", Its ok to be frightened, Do your research, Dobule check your idea is of worth, Strap up and take serious action, "kick ass", Roll sleeves up and push like hell, You can achieve what you aim for if you beleive it.
Crazy ideas, Are we being a little mad in our thinking?, Give yourself permission to have such outrageous ideas, Allow these to add value in the real world
Superhero powers, "Find my own voice", Project into the future and idealize, self-actualize, Fulfilling Dreams and wishes, "Be in two places at one time", Appriciate the interesting things in the here and now, 2nd me could go to the other place on my behalf, Read people's minds, If I knew exactly what they didn't know..., See confusions and roadblocks before these materilaize, As long as they're not thinking bad things about me!, Step outside my body see myself from other peoples eyes, egotitical, vain, harsh in my approach to people, take on board observations, Improve and grow, Implant "chips" in people, automatically give them what they need, restore childhood imagination before pre-conditioning
Let go of inherent fears and beleif, Rainbow mindset gives us permission to do so, Connect with people, Raise Capital, Unafraid of rejection, Extra confidence and clarity, Actions beyond your comfort zone
Rain
Change sense of perspective, Look towards the horizon in the sun, Look down towards your feet in the rain, The positive power of negative speculation
Imagine a day when it feels as if the world is working against you, Notice the leak in the roof, Notice the blocked drains, Understand the potential problems
Rainy Days, When somebody I know is in harm., The rest doesn't really matter, There is a lot to be learned from collecting rain, If you get served lemons make lemonade, Stressed, Overworked, Overwhelemed, Confused, Concerned, Unsure about the future, There are opportunities in the rain, rehydrate, refresh, dance in the rain
Not implementing, Failing to take the necessary action, don't know what to do, don't know how to do it
Consider all of the objections, Worth time thinking about what might arise, Pre-plan an answer, Before the solution arises, There is a positive way to think negatively, Understand a potential problem in advance, Remove some of the risks, predict potential outcome, work around them
Reality check, Sensing the negatives, understanding them, avoid tripping over them, How far is your money going to go?, What resources do you really need?, Favours being asked, Is the goodwill there?, How much arm twisting...?, How far can this go?, Do not allow the problems to surface and surprise you, Be honest with yourself, Know your enemeies, A lack of cash can be an enemy, Talk to other people, Understand what you don't know, Understand where you need expertise, Don't let it fall apart because you can't do it, Most take-overs want to remove the founder, He is not the best CEO, Entrepreneurs are rock and rollers, Knowing the reality, Protect against potential problems, Take precautions from risks
When it all goes wrong online, Social Media Trolling, Be careful with privacy settings, Fake profiles, Trip Advisor example, you must face a negative review head on, Be polite, Leave door open for communication, Acknowledge problem publically, Resolve it privately, Ask Gemma for advice, Twitter: @GemLThompson
Snow
Challenges our basic survival, What's essential to your basic survival, Prioritize your actions clearly, Get rid of the dead wood, A tree sheds its leaves in the snow
Critical to business survival, Cash, Sales and Marketing, Keeping expenses low, snow can come, hibernate and stay alive, Good margin of profitablity, Work hard, Keep energy up so as not to freeze
A recession is a time of snow, Some people sit indoord doing nothing, Other people go an play in the snow, Important to keep that sense of fun, Become a lateral thinker, Its your mindset and creativity that can carry you through.
Pre-plan for snow, Knowing what you're going to do when it does..., Have fun!, Post euphoric sludge..., that's the hardwork bit when people lose the will
Its important you don't freeze with the rest of the world, Keep moving forward even if the pace slows, Know where your key areas are - how are you going to get access to these in the snow?
Having learnt to survive - can you thrive?, Brand, Worst advice was to change the name to be more serious...??!, Build fun into the brand, Community, Being myself, Get constructive, Get creative
Where are the paths that need to get cleared?, Notice the footsteps in the snow, What are the thoughts you've refered to often?, Notice the patterns of movement, Notice the flow of important action, Optimize these processes for accellerated growth
Whether Report™
Adopt the role of the Whether Reporter, In the lay of the land mindset you are the cartographer, Drawing your own map, Through the other mindsets you are the explorer, Understanding your situation in differnt climates, In this last mindset you are the reporter, summarizing the outcome of the brainstorm
Lots to report on, Reporting is an essential thing to do, What do you know I don't know?, Who do you know who I don't know?, What action must I prioritize in order to get to where I really want to go?
Mindset, Your beleifs influence your decisions tremendously, challenge them from time to time, Dreaming Big, The importance of being able to generate new Ideas, Value, Iterative evolution, The importance of being able to see problems as fuel with which to further passion and purpose, The importance of lateral thinking tools such as the Whether Forecast, Helping you see the bigger picture, Helping you identify what action to take next, Keep going and have the confidence to try new things, If one thing doesn't work, try another., Learning from other people, Enjoying the here and now, The need to spend more time thinking about thinking, by means of evolving ideas through an iterative process of taking action
Entrepreneurship, The world needs more lateral and logical thinkers, The idea is of the essence, Primary fears come from not knowing what to do, Success is also battoning down the hatches to "Whether" the Snow and Rain, To overcome such fear, talk to people with more experience or like-minded to you., Keep taking action even when the pace slows, Maintaining Momentum, Use your community to support you., Prioritize the needs of your clients, Have fun with your brand and message
Change Management, Time is a measure of change, Rather than manage time. Manage Change, Account for this in baby steps, Appriciate the iterative process, allow ideas to evolve
The power of team, Often we feel as if we have to do it alone, All have stengths and non-strengths, Have more people in your team, Concentrate on the community, Cross-cultural collaboraton, Communication
Rather like the weather - tomorrow will be different, Entrepreneurs don't tend to worry about how bad it could get, Have the courage to move forward, Keep it going and watch the "Whether"
The Whether Forecast Process, Sits beautifully in a mind map format, Most popular mind maps on BiggerPlate.com are 6 think hats, Will see more Whether Maps emerging, Experience the weather all the time, Great metaphore, Intituve and relevant, Very effective, Balanced decisions, Inspiring and Innovative, More information, Buy the book!, Paperback on Lulu, Amazon Kindle, A tool to help people "see" more about themselves and what they're trying to do, Invaluable, Quick, Effective, Confidence, Sense of knowing, Add to IdeaSpace Global as a regular event, Plugin to BiggerPlate Community
Andrew Wilcox Cadre Consulting Mind Map
Join in!
Visit www.theGlobalBrainstorm.com
Join us on LinkedIN
Join us on Facebook
Follow us on Twitter
The Technology
Google Hangout
Broadcast on
www.theGlobalBrainstorm, Sign-up, Details next live event, Trial Typhoon 20 minute free brainstorm, Full 2012 Whether Report™
Google +
YouTube
15th November 2012
Live from
The Innovation Warehouse, 1 East Poultry Lane, London
The vision builds on this first model
Application Development
Fuding Captial Required
The Whether Forecast™ Tool
An Introduction by means of action learning
A parallel thinking tool
using 7 mindsets, The lay of the land, Sun, Wind, Rain, Rainbow, Snow, The Whether Report
An Innovation Generating Machine
A framework from which to derive solutions
A means of mapping Ideas
Better Brainstorming and Decision Making
Personal and Professional Growth
BUY THE BOOK!
Paperback on Lulu
E-book for Kindle
Template for Whether Forecast mind map