Should the H1N1 Virus (Swine flu) be labelled a pandemic?
by Peter Cayzer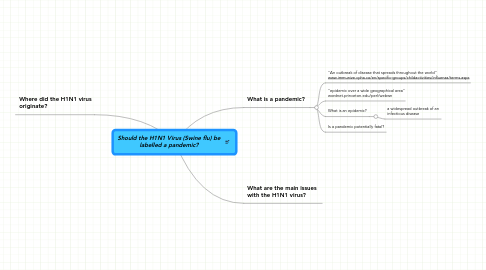 1. What is a pandemic?
1.1. "An outbreak of disease that spreads throughout the world" www.immunize.cpha.ca/en/specific-groups/childactivities/influenza/terms.aspx
1.2. "epidemic over a wide geographical area" wordnet.princeton.edu/perl/webwn
1.3. What is an epidemic?
1.3.1. a widespread outbreak of an infectious disease
1.4. Is a pandemic potentially fatal?
2. Where did the H1N1 virus originate?
3. What are the main issues with the H1N1 virus?