Exertion Game
by
Thomas Hess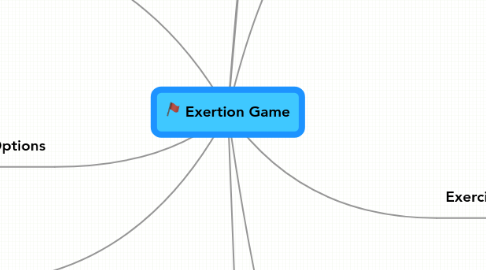 0.0
stars -
0
reviews range from
0
to
5
Exertion Game
Technologies
Flash/Flex
Processing
Java
Quartz Composer
Cocoa
Cocoa Touch
(Android)
OpenGL
Max/MSP/Jitter
Sensor Types
Accelerometer
Camera
Compass
Orientation (Phone)
Light
Infrared
Touch
Force/Torque
Body Sensor (Pulse, Blood Pressure)
Microphone
Temperature
Proximity/Distance
Exercises
Fitness (Bodyweight Exercises)
Dancing
Combat/Martial Sport
Should not need additional equipment like ball, weights, ...
Abstract movement that makes no sense on its own but provides input
Isometric exercises (measured by force sensors)
Rhythmic / Beat-based movements
Concrete Movements
Game Types
Single-Player
Multi-Player at same computer
Networked Multi-Player
Against each other
Cooperative
Aim for points (Highscore) (also for Single-Player)
Sensor Input
Phone Movement
Gesture Detection
Don't create input directly, but indirectly (e.g. shooting a ball against a sensor)
Body Sensors (measure the exercise effect: pulse, sweat)
Generate electricity (exercise bike)
User interacts with water (e.g. pressing balloons filled with water). We detect the interaction by monitoring the water levels (displacement).
Game Ideas
Something that is not as easy in "real" (e.g. Food Fight)
We should not just simulate a "real-life" sport.
Place sensors at hard to reach places (e.g. touch sensors on a wall -> jumping/climbing movement)
Place sensors in a way that requires a specific movement to activate them (e.g. touch sensors on the floor in a push-up position)
Collaboratively create art (e.g. painting through body movements)
Game for the mobile phone that gives you abstract goals to achieve (e.g. change your altitude by 10 meters). You have to get creative and use your current environment to achieve the goal.
Funfair attraction simulation
Cooking simulation
Air drumming
Simon game but with physical gestures
Mobile (Phone) Application
We have no spatial constrains.
Outdoor Activities
We can track location changes
Use of the outdoor environment (obstacles).
Game Options
Time Limits to make it more strenuous
General possible approaches
Re-enact a real sport
Use exertion input for a classic computer game
Extend a real sport with virtual objects