Art as a Window
by
George Hartman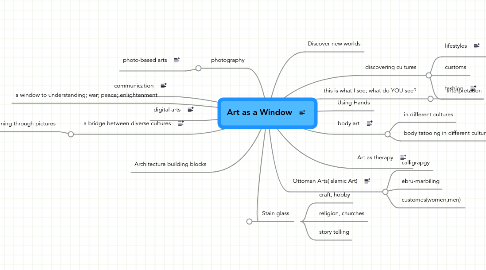 3.0
stars -
1
reviews range from
0
to
5
Art as a Window
Discover new worlds
photography
photo-based arts
discovering cultures
lifestyles
customs
fashion
communication
How does art communicate to children. What stories can it tell them or how can they express themselves.
Art as therapy
Using art as therapy. How children communicate. ie. having students draw themselves crossing a body of water toget to the other side. Some may draw themselves in a boat, others may use a bridge to cross. This is a fun activity.
Using Hands
Discover new worlds
body art
Using parts of your body to produce art. ie. a floor painting using your hair, or rolling on the floor in paint and making a painting.
in different cultures
body tatooing in different cultures
digital arts
using photographs and cutting them up to make a picture.
a bridge between diverse cultures
How different they might be or how the same
learning through pictures
this is what I see; what do YOU see?
interpretation
a window to understanding; war; peace; enlightenment
Architecture building blocks
Stain glass
craft, hobby
religion, churches
story telling
Ottoman Arts(Islamic Art)
This site from Los Angeles Museum of art: http://www.lacma.org/islamic_art/intro.htm This site is showing The Islamic Art in The Metropolitan Museum of Art : http://www.metmuseum.org/Works_Of_Art/department.asp?dep=14 This is a site for Ottoman
calligrapgy
ebru-marbiling
customes(women,men)