Mr. Chicki: iEducator Map of Technology Integration Resources
by
Jeff Chicki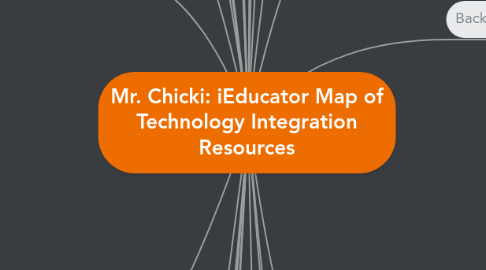 0.0
stars - reviews range from
0
to
5
Digital Brainstorming
LMS & Parent Communication
Google Forms
Capture audio that can be linked to in a thinglink
Google Earth
Geo-Referencing the Curriculum
use school e-mail Create bundles of web pages related to content
Bundle web content for students to respond to in various ways.
iPhoto
Photo Journals
Soundflower
My Channel
Free for all indiana teachers
My Webmix
Picture Slicing
record voice over a presentation with video side by side
Video Capture
Screencast-O-Matic, My Channel
Knovio
Quicktime
iMovie
Click show advanced tools in iMovie preferences
Quicktime
Google Docs
Voice Comments
Google Hangouts
Professional Learning Community
Social Networking
Facebook
Google+
Learning Connection
Twitter, Hootsuite
Pinterest
Linkedin
RSS Feeds
Use symbaloo to follow your favorite RSS feeds
Keeping Up With Current Trends
Flipboard
Zite
Blogs to follow, Free Tech 4 Teachers, Edudemic, Edutopia, Mindshift, The Playground Advocate
Back-Channel Discussions
Reading Strategies
Open Ended Resources
Info Graphics & Digital Posters
Timeline Tools
Digital Books
Bookry
3d Warehouse Images
ePortfolios
Webpage Design
Blog
Embeded
Online Widgets, Snacktools, Banners, EMBED Video, Podcasts, Flip-books, Online Countdown, Cooltext
Access via Google login
Blogging
QR Code Generators
Use this URL Shortener to create a url. Then use the new url to generate the QR code. It will then be trackable through your google account.
URL Shortner & Reader
MindMapping