SWOT Concorrência Starbucks
by
Mari Alves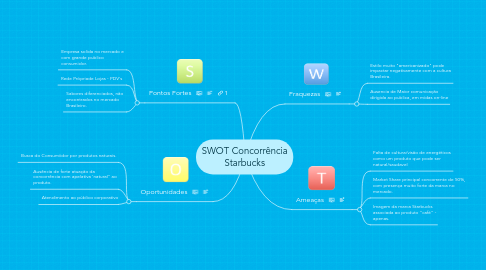 0.0
stars -
0
reviews range from
0
to
5
patents strong brand names good reputation among customers cost advantages from proprietary know-how exclusive access to high grade natural resources favorable access to distribution networks  
Empresa solida no mercado e com grande publico consumidor.
Rede Própriade Lojas - PDV's
Sabores diferenciados, não encontrados no mercado Brasileiro.
Ameaças
shifts in consumer tastes away from the firm's products emergence of substitute products new regulations increased trade barriers
Falta de cultura/visão de energéticos como um produto que pode ser natural/saudavel
Market Share principal concorrente de 50%, com presença muito forte da marca no mercado.
Imagem da marca Starbucks associada ao produto "café" - apenas.
Fraquezas
lack of patent protection a weak brand name poor reputation among customers high cost structure lack of access to the best natural resources lack of access to key distribution channels
Estilo muito "americanizado" pode impactar negativamente com a cultura Brasileira.
Ausencia de Maior comunicação dirigida ao publica, em midas on-line
Oportunidades
an unfulfilled customer need arrival of new technologies loosening of regulations removal of international trade barriers
Busca do Consumiidor por produtos naturais.
Ausência de forte atuação da concorrência com apelativa 'natural" ao produto.
Atendimento ao público corporativo